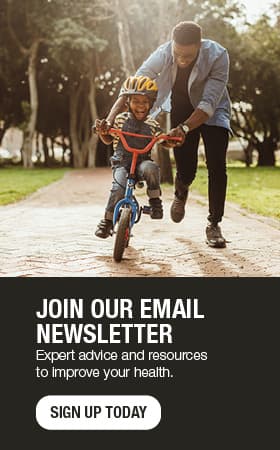 Quick recovery and no more pain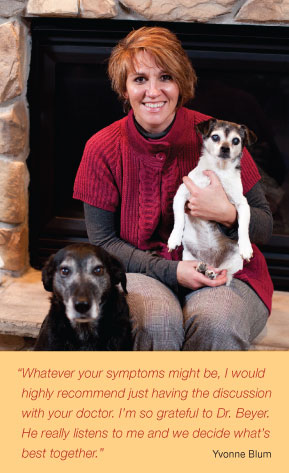 Minimally invasive surgery the answer for Owatonna woman
Imagine living with debilitating pain so severe you can't work — or do anything else — for three or four days every single month.
That's what Yvonne Blum was facing. But today, after a minimally invasive hysterectomy at Mayo Clinic Health System in Owatonna, her pain is gone — and she's encouraging other women in the same situation to talk to their providers, too.
'Ridiculous' symptoms
Blum's menstrual cycle has never been particularly kind to her.
"With my cycles, the flow and cramping were so severe it was completely ridiculous,"
she says.
In 2008, she finally asked her Owatonna gynecologist, Derek Beyer, M.D., about treatment options to relieve her pain and other symptoms.
At that time, she decided to have an endometrial ablation, which is a procedure that destroys the lining of the uterus to reduce menstrual flow and cramping. Dr. Beyer told her that the procedure would most likely reduce her symptoms, but those results might not last long term. If they didn't, it would be time to talk about a hysterectomy.
After the procedure, Blum was thrilled.
"The ablation procedure worked very well," she says. "I wasn't miserable and I didn't have to miss work anymore. It totally cured my symptoms … for 22 months exactly."
Pain returns two-fold
"In January of 2011, the cramping came back full-blown," says Blum. "In fact, they were almost twice as bad as they were before."
At the time, Blum was just 41 years old. She knew she didn't want to wait 10 more years for menopause (51 is the average age women reach menopause). She also sought advice from friends who had gone through similar situations.
"A few of my girlfriends have had hysterectomies, and they all say it's the best medical decision they've ever made," says Blum. "I called Dr. Beyer to ask about next steps."
Hysterectomy options
"There are a few variations on the same theme for a hysterectomy," says Dr. Beyer. (See "A full menu of treatments" below for more information.) "For Yvonne, we decided on a total laparoscopic hysterectomy, in which we remove the uterus and cervix using four tiny incisions in the abdomen."
Dr. Beyer says he prefers the minimally invasive treatment options when feasible. "It's less painful, the recovery goes more smoothly, and many women feel better sooner than with the open abdominal surgery option."
Yvonne's experience
"The actual surgery went very well," says Blum. "Afterward, I actually felt more comfortable than I had with my ablation."
She stayed in the hospital one night and then recovered at home for four weeks. She says her scars have already begun to fade.
"I just did this back in July 2013, and I can already say that it's absolutely one of the best decisions I've made for myself," says Blum. "I don't have to live in misery once a month for the next eight to 10 years. I'm already ecstatic."
Blum hopes that other women with bothersome symptoms find relief, too.
"Whatever your symptoms might be, I would highly recommend just having the discussion with your doctor," she says. "I'm so grateful to Dr. Beyer. He really listens to me and we decide what's best together. All the way around, I am very pleased."
---
A full menu of treatments
For women who have heavy menstrual flow, severe cramps or other symptoms related to their monthly cycle, plenty of treatment options are available. For more information, schedule an appointment with your provider.
Least invasive
Hormone therapy is the least invasive option, including oral contraceptive (birth control) pills, contraceptive shots or an intra-uterine device. These can lighten flow and relieve cramps.
Alternatives to hysterectomy
Endometrial ablation destroys the lining of the uterus. Ten to 20 percent of women stop having periods.
Treatment for fibroids
If fibroids are causing severe symptoms, the Interventional Radiology Department at Mayo Clinic in Rochester does image-guided ultrasound fibroid ablation and embolization of the uterine artery. Both of these shrink or destroy fibroids.
Hysterectomy
In addition to abdominal and vaginal hysterectomy, minimally invasive options include laparoscopic hysterectomy, supracervical hysterectomy, and laparoscopic-assisted vaginal hysterectomy.