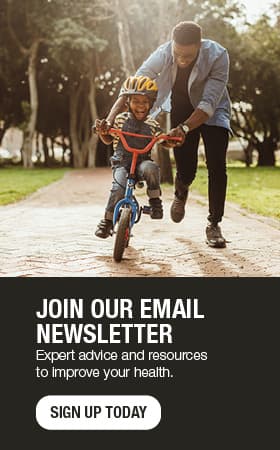 Early diagnosis keeps Lily moving forward

Lily Gersemehl is always on the move — running, climbing and dancing her way through life.
"She's unstoppable," says Lily's mom, Sara Gersemehl of New Prague, with a laugh.
Perhaps she's making up for lost time. Soon after she was born, Lily, now 2 years old, was diagnosed with hip dysplasia, a condition in which the hip socket doesn't fully cover the ball portion of the upper thighbone, allowing the thighbone to move in and out of the socket.
If caught early, hip dysplasia can be treated with a brace called a Pavlik harness. The harness holds a child's legs in a position that helps the socket develop normally and also allows any loose ligaments around the hip joint to tighten.
Kristin Loewe Tiegs, M.D., a family physician at Mayo Clinic Health System in New Prague, diagnosed Lily when she was just 2 days old.
"Before we left the hospital, Dr. Tiegs examined Lily and noticed her left hip felt disconnected," says Gersemehl.
X-rays and an ultrasound confirmed Dr. Tiegs' suspicion that Lily had hip dysplasia. She was fitted for a harness, which she wore 24 hours a day for 10 weeks. Then for two weeks, she wore the harness at night only. Follow-up exams have shown the treatment was a success.
"The sooner hip dysplasia is identified and proper treatment can begin, the better the outcome," says Dr. Tiegs. "That's another reason well-child exams are important. They give us a chance to keep checking a baby's hips over time."
Gersemehl initially worried she had done something during her pregnancy to cause the problem. But Dr. Tiegs assured her that was not the case. There is no known cause for hip dysplasia, which is more common in girls and firstborn children like Lily.
"As a mom, you want everything to be perfect," says Gersemehl. "When Dr. Tiegs first told me about this, I was a wreck. I was scared about what it meant for Lily. But the more I talked to Dr. Tiegs, the better I felt."
And when her daughter started walking at just 8 months, Gersemehl says she knew Lily would be okay.
"She's a busy, happy little girl," says Gersemehl. "She'll never even know anything was wrong."