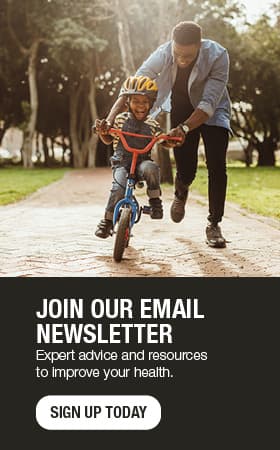 A small clot is a big deal
By Marlene Schultz
If it wasn't for Deb Feiler, physical therapy assistant, I would not be here.
On Friday, Sept. 20, 2013, I woke up breathing heavy, but I didn't think anything of it. I simply drove myself to my usual physical therapy appointment at Mayo Clinic Health System's Physical Rehabilitation Department in Menomonie. Deb was my therapy assistant that day.
We began our session with 10 minutes on the NuStep machine, but as we headed off to a different room for strengthening activities, Deb noticed my labored breathing. It felt like I had a brick pressing down on my chest, making it impossible to breathe deeply. But I'd had similar experiences after my knee replacement surgery, and they'd always go away if I sat down. So I was fine — or at least that's what I tried telling Deb.
She wasn't convinced.
"It might not be anything," Deb admitted, "but you still need to get it checked out."
I wasn't convinced. How would my laundry or grocery shopping get done before the Menomonie High School football game if I was in the emergency room? No, I didn't have time for that!
She insisted, "Either you go there yourself, or I will drive you there."
Her level of concern made me realize the severity of the situation. I turned down the ride, but I agreed to go. She cared about me and even called to confirm that I made it there.
Michael Phillips, M.D., conducted a blood test, and the results revealed that I had a blood clot. I would miss the football game after all; but if I had not gone to Urgent Care, the blood clot could have killed me. Next, they performed a chest X-ray and CAT scan that showed that the blood clot had, thankfully, broken up.
The reality of how close I was to dying hit home, and I was reminded of my mother, who had passed away from a blood clot.
Dr. Phillips gave me a blood thinner, and I was put on oxygen before taking an ambulance to Mayo Clinic Health System in Eau Claire. Two of the staff in the ambulance sat in the back with me, and they were just as compassionate as Deb and the employees at Mayo Clinic Health System in Menomonie.
That night, Jeffery Goodwin, M.D., inserted a filter that would prevent future blood clots from being dangerous. I spent six days in the hospital recovering before I was cleared to go home. During my recovery, Deb called to see how I was doing.
The genuine care and compassion that I found at Mayo Clinic Health System was wonderful, and if it was not for Deb's concern, I would be six feet underground rather than outside enjoying the sunshine. I owe her my life, and I am thankful for all that she did for me.
I've learned a lot since then about blood clots and the importance of listening to your body. Even though symptoms can turn out to be nothing, it's better to get checked out and listen to your providers.
March 2021 update: Deb Feiler retired from the Physical Rehabilitation Department. We thank her for her years of dedicated service and caring for patients.