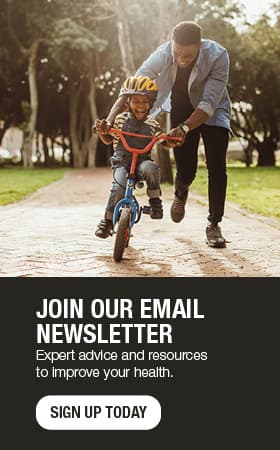 Doctor's intuition leads to lifesaving care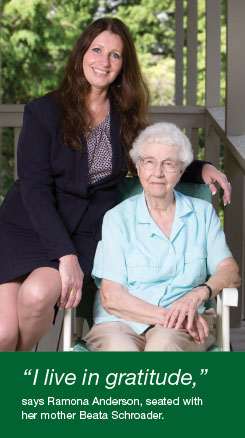 Many people think if they're fairly young and in good physical condition, they won't have major health problems — but you never know when a surprise event will change your life.
Know when to go
It was an average September weekend for Ramona Anderson, a nurse manager for the Southeast Minnesota region of Mayo Clinic Health System who lives in Albert Lea, Minnesota. She and her family were cleaning the basement, and she drove to the store to buy trash bags.
But as she walked down the aisle, she began to experience strong pain in her shoulders.
"The pain came on like a light switch," she says. "I immediately tried to figure out what I had done. One of my shoulders had been bothering me, and I wondered why the other was in pain."
"When I got home, I rested for 15 minutes," Anderson, 51, says. She couldn't get comfortable. "I'm a nurse, so I know men and women can present differently with cardiac symptoms, but I have no family history, am average weight and not diabetic — so my risk factors are not high."
But she knew something wasn't right, and asked her daughter to drive her to the Emergency Department on the Albert Lea campus of Mayo Clinic Health System - Albert Lea and Austin.
Intuitive treatment
Blood tests indicated slightly elevated troponin, which is specific to cardiac muscle distress.
"I expected to be ruled out for heart problems and sent back for a checkup," Anderson says.
But Clarence Carlson, M.D., an Emergency Department physician on the Albert Lea campus, was suspicious of the troponin levels. Anderson says her electrocardiogram (EKG) result was normal, but the continuous cardiac monitor showed a self-terminating, six-beat run of ventricular tachycardia (irregular heartbeat) that, if sustained, can lead to cardiac arrest.
"My mind was spinning at that point," she says. "The reality sunk in. I'm not invincible."
Fast transfer
Dr. Carlson transferred Anderson to Mayo Clinic in Rochester - Saint Marys campus, via helicopter. She was diagnosed with a thrombus (blood clot) in her left descending coronary artery. Surgeons performed a thrombectomy six times to remove the clot. With part of the clot gone, they prescribed blood thinners, and Anderson was released.
Hidden problem
When Anderson returned for follow-up tests, her physician suspected the clot had hidden a SCAD (spontaneous coronary artery dissection), which is a broken flap in the artery that causes blood clots. "Doctors discovered that I have Factor V Leiden thrombophilia," says Anderson. It's an inherited blood clot disorder that affects 5 percent of people of Northern European descent.
Grateful recovery
"I live in gratitude," she says. "I read about women who have died at home, and I think how hard it was for me to bring myself in. I'm so thankful for Dr. Carlson, the team in Albert Lea's Emergency Department and the flight crew that day. This could have been my kids' first Christmas without a mom. It is really God's grace that I survived."