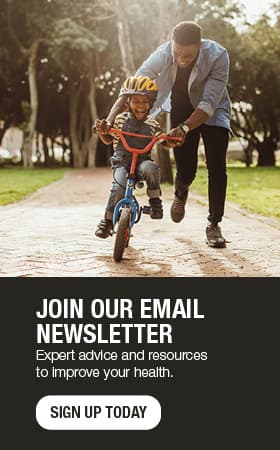 A New Me: Lifestyle management helps La Crosse woman make changes inside and out
History was repeating itself in Angie Roggensack's life.
"I have a very strong family history of obesity and diabetes," says Angie. "I was overweight and having problems with diabetes, sleep apnea and bad knees. I didn't want to keep going down that path."
She'd dieted on her own and had tried a number of weight loss programs over the years, but had been unable to lose the amount of weight she needed to. In 2012, she decided to sign up for A New Me, a lifestyle management program that helps participants adopt a variety of health and wellness changes.
"I was attracted to the program because it appeared to focus on more than just weight loss," says Angie. "It seemed different from other programs I had tried."
A New Me is different by design, says Anne Meyer, a health promotion coordinator who helps run the program.
"A New Me goes well beyond the scope of a traditional weight loss program, which often focuses only on the amount of weight lost," says Anne. "This program provides education in three main facets of wellness: nutrition, physical activity and stress management. It then goes a step further by including a deeper exploration of why and how to make changes."
For Angie, the program was a revelation.
"The program helped me realize that being overweight was a symptom of other problems," she says. "I realized I wasn't living the life that I wanted to be."
So, she began to make changes. She changed the way she ate — but never counted calories. Instead, Angie eliminated most processed foods, and began eating more fruits and vegetables. She joined a gym and committed to meeting a friend there every day after work. She also joined a church.
"We encourage participants to take a broader view and see the endless possibilities and rewards of being well in all areas of life," says Anne. "A New Me gives participants the permission to truly take care of themselves and find joy in feeling better than they ever thought they could."
The program worked as intended for Angie. She had taken steps to lose weight before signing up for A New Me, but readily admits that the program gave her additional tools to reach her goals. By the time she finished the program, she'd lost 145 pounds. Although Angie's weight loss journey has been remarkable, she feels as though the bigger transformation was internal.
"I'm most proud of my spiritual growth," she says. "I can look at myself and say I'm a good person. I've learned to love myself and take care of myself. Before, I was always trying to be the best employee, best mom and best wife that I could. But I wasn't looking at how I could be the best me."
The growth that Angie has experienced is not uncommon, says Anne.
"Wellness is more than a number on the scale, and a person's worth goes much deeper than their physical appearance," she says. "Intellectually, participants may know that. A New Me helps them feel it."
Angie recommends the program to anyone interested in making a significant change in his or her life.
"The program changed my whole perspective on life," she says. "For me, the changes have been almost endless."