Show Your Heart Some Love
Need to make an appointment?
Cardiac Surgery
Varicose Vein Treatment in Eau Claire
Varicose veins are twisted, enlarged veins. Any vein can become varicosed, but veins that are most affected are those in the legs due to standing and walking increasing the pressure in the veins.
Varicose veins are caused by weak or damaged valves. Muscle contractions in your lower legs act as pumps and elastic vein walls help blood return to your heart. Tiny valves in your veins open as blood flows toward your heart then close to stop blood from flowing backward. If these valves are weak or damaged, blood can flow backward and pool in the vein, causing the veins to stretch or twist.
Varicose veins are not simply a cosmetic issue. At best, they are a cosmetic concern with few symptoms. More commonly, they lead to painfully swollen, aching, and tired legs that worsen with even a minimal amount of exercise or standing. At worst, they indicate a progressive disease process called chronic venous insufficiency, which causes poor wound healing, ulcers and, in the most severe cases, can lead to amputation. All varicose veins should be evaluated by a health care provider, especially symptomatic ones.
Treatment
The treatment of varicose veins typically begins with self-care strategies including exercise, losing weight, compression stockings, elevating your legs and avoiding long periods of standing or sitting. If you don't respond to self-care strategies or if your condition is more severe, you may be a candidate for minimally invasive treatment.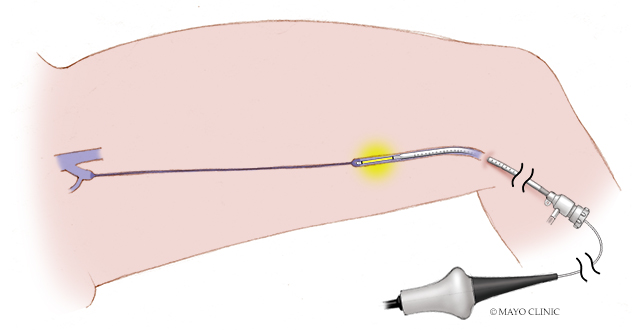 Endovenous laser ablation therapy
Endovenous laser ablation therapy is a procedure that uses heat from a laser to reduce varicose veins. The laser closes and shrinks the vein and causes scar tissue to form within the vessel. The scar tissue seals off the vein, preventing blood from flowing through. Blood then flows through other nearby, healthy veins instead.
After the procedure, patients should avoid hard physical activity for a week after treatment. Discomfort usually resolves quickly and can be managed with over-the-counter pain medicine.
Phlebectomy
A phlebectomy is a minimally invasive procedure that effectively removes varicose veins from the body. The procedure is performed through a series of small incisions. A small hook, called a phlebectomy hook, is eased through the small incisions to remove the enlarged vein or veins from the body. The body will then naturally redirect blood flow to surrounding healthy veins.
After the procedure, scarring is generally minimal and patients typically can return to normal activities, including work, within 24 to 48 hours.