Show Your Heart Some Love
Need to make an appointment?
Cardiac Surgery
Coronary Artery Disease Treatment in Eau Claire
Coronary artery disease develops when the major blood vessels that supply your heart become damaged or diseased. Cholesterol-containing deposits (plaques) in your coronary arteries and inflammation are usually to blame for coronary artery disease.
The coronary arteries supply blood, oxygen, and nutrients to your heart. A buildup of plaque can narrow these arteries, decreasing blood flow to your heart. Eventually, the reduced blood flow may cause chest pain, shortness of breath, or other coronary artery disease signs and symptoms. A complete blockage can cause a heart attack.
Treatment
Treatment for coronary artery disease usually involves lifestyle changes and drugs including cholesterol-modifying medications, beta blockers, aspirin, or nitroglycerin.
However, sometimes more aggressive treatment is needed.
Procedures & surgery
Angioplasty and stent placement
Coronary angioplasty is a procedure used to open clogged heart arteries. Angioplasty uses a tiny balloon catheter that is inserted in a blocked blood vessel to widen it and improve blood flow to your heart.
Angioplasty is often combined with the placement of a small wire mesh tube called a stent. The stent props the artery open, decreasing its chance of narrowing again. Most stents are coated with medication to keep your artery open.
Angioplasty may be a treatment option if you have:
Tried medications or lifestyle changes, but these steps have not improved your heart health.
Worsening chest pain.
A heart attack. Angioplasty can quickly open a blocked artery, reducing damage to your heart.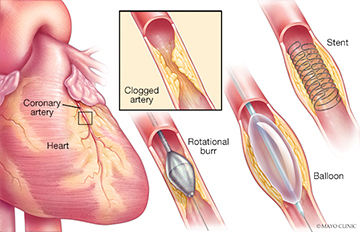 Coronary bypass surgery
Coronary bypass surgery redirects blood around a section of a blocked or partially blocked artery in your heart. The procedure involves taking a healthy blood vessel from your leg, arm or chest and connecting it below and above the blocked arteries in your heart. With a new pathway, blood flow to the heart muscle improves.
Coronary bypass surgery doesn't cure the heart disease that caused the blockages. However, it can ease symptoms, such as chest pain and shortness of breath. For some people, this procedure can improve heart function and reduce the risk of dying of heart disease.
Coronary bypass surgery is one treatment option if you have a blocked artery to your heart.
You and your doctor might consider it if:
You have severe chest pain caused by narrowing of several arteries that supply your heart muscle, leaving the muscle short of blood during even light exercise or at rest.
You have more than one diseased coronary artery, and the heart's main pumping chamber — the left ventricle — isn't functioning well.
Your left main coronary artery is severely narrowed or blocked. This artery supplies most of the blood to the left ventricle.
You have an artery blockage that can't be treated with an angioplasty.
You've had a previous angioplasty or placement of a stent to hold the artery open that hasn't been successful. Or you've had a stent placement, but the artery has narrowed again.
Types of coronary bypass surgery
Traditional on-pump coronary bypass surgery
Traditional coronary bypass surgeries are done through a long incision in the chest while a heart-lung machine keeps blood and oxygen flowing through your body. The surgeon cuts down the center of the chest and opens the rib cage to expose the heart (sternotomy). Once the chest is open, the heart is temporarily stopped with medication and the heart-lung machine takes over to circulate blood to the body.
Recovery from traditional bypass surgery often takes about six to twelve weeks. Upon having your doctor's OK, you can return to work, begin exercising and resume sexual activity after four to six weeks.
Off-pump coronary bypass surgery
Off-pump bypass surgery involves the conventional sternotomy, but unlike traditional bypass surgery, off-pump surgery does not require stopping the heart or using the heart-lung machine.
Our surgeons use special equipment to stabilize the area of the heart they are working on. This approach results in faster recovery times and patients who have off-pump bypass surgery have lower risk of complications following surgery including stroke, bleeding, infection, short-term memory loss and depression. This decreased risk makes it possible for high-risk patients to consider coronary bypass surgery.
Due to its challenging technique, off-pump bypass is only used by 5% of cardiovascular surgery programs nationally. At Mayo Clinic Health System Eau Claire, off-pump bypass surgery is used in about 98% of bypass surgeries.
Minimally invasive coronary bypass surgery
During minimally invasive bypass surgery, our surgeons perform the coronary bypass through three small incisions on the left side of the chest versus opening the rib cage to expose the heart. This means less stress and trauma during surgery, leading to less time spent in the hospital and a smoother recovery. Patients can often return to normal activities after one to four weeks in comparison to four to six weeks after traditional bypass surgery.
Mayo Clinic Health System Eau Claire is among a select number of hospitals where minimally invasive bypass surgery is being regularly performed.
Minimally invasive vein harvest
In all coronary bypass surgery procedures, a healthy blood vessel from your leg, arm or chest is used to redirect blood flow around the blocked artery. In the past, a long incision from the ankle to the groin was required to obtain a healthy vein. A common complaint from patients who have undergone bypass surgery is the discomfort in the leg incision and the scarring where the healthy blood vessel was removed. At Mayo Clinic Health System Eau Claire, physicians and physician assistants in cardiovascular surgery have implemented new techniques to minimize the pain and trauma of the vein harvest.
A procedure called endoscopic vein harvest (EVH) is used in more than 90% of patients who have veins harvested. During EVH, a scope is used to harvest veins for the bypass through a three centimeter incision near the knee..
The result is that most patients are more comfortable when recovering and resuming their lifestyle because they don't have the discomfort of a long leg incision. Patients also experience significantly less scarring and risk of infection.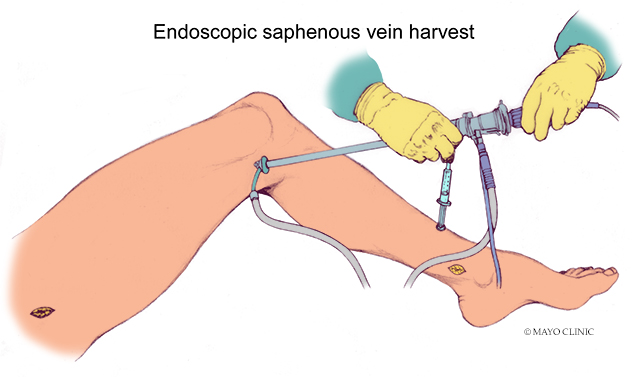 Collaborative Services
Our cardiothoracic surgery team works closely with medical experts from many departments to create a personalized treatment plan just for you. Some of the services and procedures listed may be provided by our Cardiology experts. This collaborative approach ensures we deliver the comprehensive, innovative and supportive care you need, while keeping you close to home and family. Learn more about our Cardiology team.