Show Your Heart Some Love
Need to make an appointment?
Cardiac Surgery
Abdominal Aortic Aneurysm Treatment in Eau Claire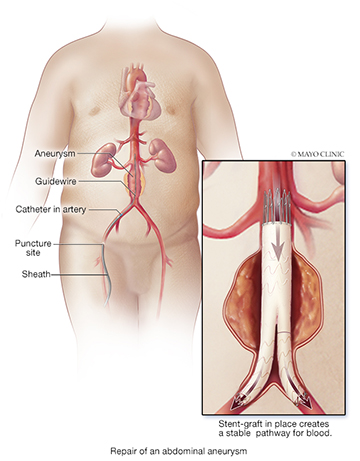 An abdominal aortic aneurysm is an enlarged and weakened area in the lower part of the major blood vessel that supplies blood to the body (aorta). The aorta runs from the heart through the center of the chest and abdomen. An abdominal aortic aneurysm is a dangerous condition because of the importance of the aorta and its role to carry blood throughout your entire body. The larger the aneurysm, the greater the risk of rupture, which can cause life-threatening internal bleeding. Aortic aneurysms also increase the risk of developing blood clots in the area.
Treatment
The goal of treatment for an abdominal aortic aneurysm is to prevent the aneurysm from rupturing.
Medical Monitoring
Your doctor may recommend monitoring or watchful waiting if your aortic aneurysm is small and isn't causing symptoms. Monitoring requires regular checkups and imaging tests to determine if the aneurysm is growing.
Surgery
Surgery is generally recommended for larger aneurysms or if it's growing quickly or presenting symptoms. The type of surgery performed depends on the size and location of the aneurysm, age and overall health. Abdominal aortic aneurysm surgery options may include:
Endovascular repair
This procedure is used most often to repair an abdominal aortic aneurysm. Our cardiovascular surgeons insert a thin, flexible tube (catheter) through an artery in the leg and gently guide it to the aorta. A metal mesh tube (graft) on the end of the catheter is placed at the site of the aneurysm, expanded, and fastened in place. The graft strengthens the weakened section of the aorta to prevent rupture of the aneurysm.
Benefits to performing an endovascular repair include faster recovery times, less pain, and less risk for developing complications post-surgery. However, endovascular surgery isn't an option for everyone with an abdominal aortic aneurysm. You and your doctor will discuss the best repair option for you. After endovascular surgery, you'll need regular imaging tests to ensure that the grafted area isn't leaking.
Open abdominal surgery
This procedure involves removing the damaged part of the aorta and replacing it with a graft, which is sewn into place. Full recovery may take a month or more.