Show Your Heart Some Love
Need to make an appointment?
Cardiac Surgery
Arrhythmia (Heart Rhythm) Treatment in Eau Claire
Heart rhythm problems, or heart arrhythmias, occur when the electrical impulses that coordinate your heartbeats don't work properly, causing your heart to beat too fast, too slow or irregularly. A common heart rhythm disorder is atrial fibrillation. In atrial fibrillation, also called afib, electrical signals in the heart's upper chambers cause your heart to beat quickly and chaotically, causing an irregular fast heart rhythm.
Heart arrhythmias may feel like a fluttering or racing heart, and they may be harmless. However, some heart arrhythmias can cause bothersome — sometimes even life-threatening — signs and symptoms. However, arrhythmias may not cause any signs or symptoms.
Your health care provider may find that you have an arrhythmia during a routine examination. Noticeable signs and symptoms don't necessarily mean you have a serious problem.
Treatment
If you have an arrhythmia, treatment may or may not be necessary. Usually, it's required only if the arrhythmia is causing significant symptoms or if it's putting you at risk of a more serious arrhythmia or arrhythmia complication.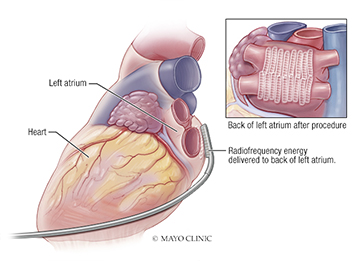 Cardiac ablation
Cardiac ablation works by scarring the tissues in your heart that trigger the abnormal heart rhythm. In some cases, it prevents abnormal electrical signals from entering your heart and stops the arrhythmia.
Cardiac ablation uses long, flexible tubes inserted through a vein or artery in your groin and threaded to your heart to deliver heat or cold to modify the tissues in your heart that are causing the arrhythmia.
Implantable devices
Treatment for heart arrhythmias also may involve use of an implantable device:
Pacemaker
A pacemaker is an implantable device that controls abnormal heart rhythms. A small device is placed under the skin near the collarbone in a minor surgical procedure. An insulated wire extends from the device to the heart, where it's permanently anchored. If a pacemaker detects a heart rate that's abnormal, it emits electrical impulses that stimulate your heart to beat at a normal rate.
Implantable cardioverter-defibrillator (ICD)
Your health care provider may recommend this device if you're at high risk of developing a dangerously fast or irregular heartbeat in the lower half of your heart. An implantable cardioverter-defibrillator is a battery-powered unit that's implanted under the skin near the collarbone — similar to a pacemaker. One or more electrode-tipped wires from the implantable cardioverter-defibrillator run through veins to the heart. The implantable cardioverter-defibrillator continuously monitors your heart rhythm. If it detects an abnormal heart rhythm, it sends out low- or high-energy shocks to reset the heart to a normal rhythm. An implantable cardioverter-defibrillator doesn't prevent an abnormal heart rhythm from occurring, but it treats it if it occurs.
Maze surgery
During a maze heart surgery, a heart surgeon creates multiple cuts into the upper part of your heart (atria) in an intricate pattern, or maze. Your surgeon then stitches the incisions together to produce scars. Because the scars do not carry electrical signals, they interfere with stray electrical impulses that cause irregular heartbeats. This restores your heart's regular, coordinated heartbeat.
The maze procedure is the preferred method of atrial fibrillation treatment if you also need another heart surgery, such as for coronary artery bypass or valve repair. In these cases, the maze procedure is done during open-heart surgery. It may also be the preferred treatment for people who don't respond to other treatments or are experiencing a recurrence of atrial fibrillation.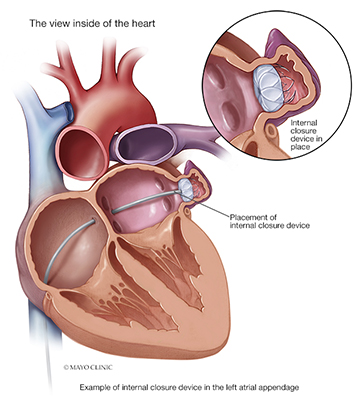 Left atrial appendage closure
The left atrial appendage of the heart is a pouch-like extension of the heart. In patients with irregular heart rhythms or atrial fibrillation, blood can pool inside the left atrial appendage, causing blood clots. If the blood clots break loose, it may travel through your blood vessels and plug the smaller vessel in your brain or heart, causing a stroke.
Left atrial appendage closure is a procedure used to reduce the risk of stroke in patients with atrial fibrillation. The procedure seals off your left atrial appendage, preventing blood from circulating through and pooling, decreasing your risk of stroke.
During the procedure, our surgeons thread a catheter through the groin and up through the heart to the left atrial appendage. A small, parachute-shaped device is implanted and blocks the opening to the left atrial appendage. In time, tissue grows over the device, holding into place. The device will never need to be replaced.
Hybrid ablation surgery
Hybrid means the combination of two or more things. Hybrid ablation is the combination of two procedures, typically done about four to six weeks apart.
Hybrid ablation may be the best treatment for people who have:
Atrial fibrillation that has been present for a long time.
Atrial fibrillation that does not go away and is causing significant symptoms.
Damage to the heart that makes other treatments less likely to result in success.
There are two parts to the first procedure. The first part is called the convergent procedure. During the convergent procedure, our heart surgeons first make a small incision just below the breastbone. They then insert a small tube through the incision and thread the tube near your heart on the back of the left atrium of the heart and deliver radiofrequency energy to scar part of the heart muscle that is causing the irregular heartbeats.
The second part of the first procedure is called left atrial appendage ligation. Heart specialists have learned that part of the heart, the left atrial appendage, is responsible for most blood clots caused by atrial fibrillation. To prevent blood clots, a clip is placed on the left atrial appendage to cut it off from the rest of the heart.
About four to six weeks later, you have the second procedure, catheter ablation. During the cardiac ablation procedure, the surgeon uses long, flexible tubes inserted through a vein or artery in your groin and threaded into your heart to modify the tissues in your heart that are causing the arrhythmia. The first procedure ablates the outside of your heart, the second procedure ablates the inside – taking a whole-heart approach to treating the arrhythmia.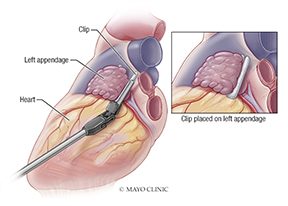 Collaborative Services
Our cardiothoracic surgery team works closely with medical experts from many departments to create a personalized treatment plan just for you. Some of the services and procedures listed may be provided by our Cardiology experts. This collaborative approach ensures we deliver the comprehensive, innovative and supportive care you need, while keeping you close to home and family. Learn more about our Cardiology team.