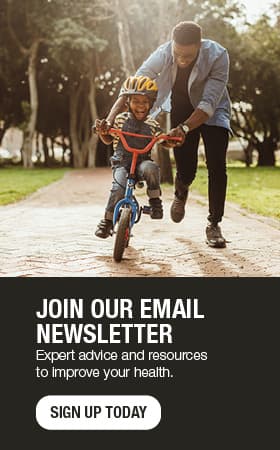 Opioid-free anesthesia: The future of pain management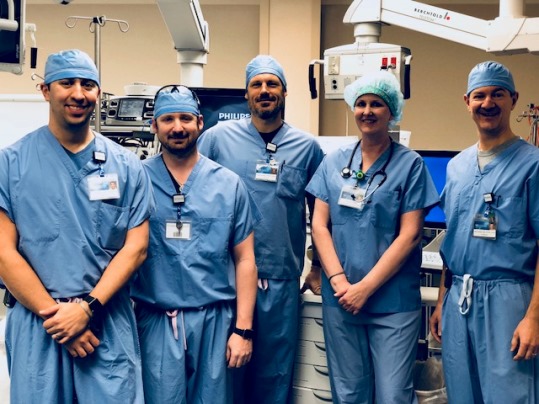 Members of the Anesthesia team at Mayo Clinic Health System in Red Wing include, left to right, Josh Cochrane, Justin Smith and Ryan Sportel, certified registered nurse anesthetists; Shelly Barker, M.D.; and Mike Sawyer, certified registered nurse anesthetist.
Chris Farley. Heath Ledger. Sigmund Freud. Prince. You likely recognize the names of these famous people, but you might not know what they have in common. They all died from an opioid overdose.
Opioids are narcotics derived from poppy seeds, the most recognizable of which include morphine, OxyContin, Percocet, Vicodin, fentanyl and the illicit drug heroin.
According to Ryan Sportel and Mike Sawyer, certified registered nurse anesthetists at Mayo Clinic Health System in Red Wing, opioid use can be traced as far back as the ancient Egyptians, who harvested opium to provide pain relief. Over thousands of years, various iterations of opioids have been used in medicine, but recent years have ushered in an unprecedented number of prescriptions for this powerful drug.
A MEDICAL MAINSTAY
"Opioids have been a mainstay of pain treatment in the U.S. for decades," says Sawyer. "We really started to see an uptick in opioid prescriptions in the early 1980s, when pharmaceutical companies came to providers and said, 'If your patient needs them, they're safe and won't be addictive.' But pharmaceutical companies didn't have solid data to support those claims, and providers trusted that information and opioids."
The number of opioid prescriptions given and the number of related deaths have quadrupled since 1999 according to studies by John Hopkins University and The University of California San Francisco Medical Center. These studies also found that opioid use is connected to surgery. Roughly half of all surgical patients experience pain after surgery, and 24 percent of those patients can't find adequate pain relief. There are 100 million inpatient and outpatient surgeries and procedures in the U.S. every year, and 5.9 to 6.5 percent of patients persistently use opioids after major and minor procedures, respectively.
To put opioid use into perspective, the U.S. comprises 4.4 percent of the world's population, yet consumes 80 percent of the world's opioid supply, according to the universities' studies. As many as 2 million Americans have a prescription opioid use disorder, which is the medical term for addiction.
DEADLY DRUGS
To be sure, there are appropriate uses for prescription opioids. "In OB-GYN and other surgical branches, we believe it's important to make sure that patients have proper pain control after surgery," says Rubin Raju, M.D., an OB-GYN provider at Mayo Clinic Health System in Red Wing and Mayo Clinic Hospital – Methodist Campus. "Pain can impede recovery by making it difficult for patients to get out of bed and take deep enough breaths postoperative, which can lead to blood clots and cause respiratory problems, respectively. We focus on enhanced recovery after surgery, which means we want patients up and moving as quickly as possible after surgery. This practice decreases complications after surgery and facilitates recovery."
Although providers agree that opioids are occasionally required for the recovery process, they believe opioids should only be used as a last resort.
"Opioids do work, for a limited period of time, but we only use them for highly acute medical needs," says Sportel.
If opioids do the trick, then what's the harm in using them? Although opioids can effectively treat pain for the short term, aside from being highly addictive, they eventually can make the pain worse by stimulating nerve cells — a phenomenon called hyperalgesia, in which people become more sensitive to pain after receiving opioids.
Sawyer says the body begins building up a tolerance to opioids the moment they enter the system, which immediately opens the door to tolerance and, possibly, addiction. "Opioids can eventually lead to death, as they interfere with brain signals that tell the body to breathe, which results in respiratory failure," he says.
ALTERNATIVE OPTIONS
Fortunately, health care providers such as Dr. Raju, Sawyer, Sportel and the rest of the anesthesia team in Red Wing have paid attention to the dangerous opioid trends and are responding with safe, effective, opioid-free pain management alternatives rooted in best- practice techniques.
"We're trying to do surgeries without any opioids at all," says Sportel. Sawyer adds, "It's a patient-based decision, and we have many options now, including peripheral nerve blocks. We incorporate patients into our process. Before surgery, we give them the evidence-based information so they can be informed consumers. We see a handful of patients per year who have addiction histories, and are concerned about opioids." Both providers say they communicate the unique needs of each patient to the surgeon preoperative, and that a team of surgical nurse planners also regularly pass along any patient concerns.
"There are established protocols for anesthesia care before, during and after surgery at all Mayo Clinic campuses," Dr. Raju says. "The anesthesia team approaches surgeons to discuss the best methods for each patient, and we are very open to their recommendations."
It's this team model that allows all the providers to embrace new and effective techniques and collaborate quickly to get patients the best, individualized care possible.
"We've always been a practice that utilizes peripheral nerve bocks as much as we can," says Sawyer. "We're always looking for the next great nerve block because we know it's better for patients. So we're at the forefront of best practice in anesthesia."
Sawyer says they have had great success with nerve blocks, where anesthetists deposit local anesthetics directly next to the nerves, which blocks the brain from feeling pain.
Opioids act differently in that they affect much more of the body than pain receptors, and can cause drowsiness, constipation, respiratory depression and euphoria. Although euphoria doesn't sound too bad, in this case the state is caused by the opioids shutting down endorphin receptors in the brain while increasing the amount of opioid receptors. This almost immediately begins the process of addiction because it causes nerve cells to become more sensitive to pain. "The euphoric feeling is what usually causes the addiction," says Sawyer. "Patients often continue to take opioids long after surgery, even though they might not have much pain."
Managing pain after surgery is a justifiable concern. Sportel says there are two excellent options for postsurgical pain management. The first is the long-acting anesthetic Exparel, which blocks pain for 48 to 72 hours. The second is a device known as a pain pump. When patients opt for a pain pump, a catheter may be placed at the affected nerve site during surgery. Patients can then take the device home for anywhere from three to six days and choose to pump medication into the painful area as needed.
PATIENT EXPERIENCE
Every patient is different in his or her pain management needs and knowledge about opioids, but JoLyn Williams, a resident of Cannon Falls, Minnesota, opted for opioid-free anesthesia during an adjustment to her intrauterine device last November at Mayo Clinic Health System in Red Wing, where she works as a registered nurse.
"Before my surgery, providers brought up the option of opioid-free anesthesia, which would include an injection into my abdomen," says Williams. "I'm a nurse, so I understand the dangers of opioids, and I agreed to the opioid-free method."
Williams says the nerve-blocking medication was placed deep enough that she had to be put under for the injections themselves, which were beneath muscle tissue, well into both sides of her abdomen. After the nerve blocks were administered, she woke up and waited for the surgery to adjust her IUD.
"I was very groggy after the surgery, of course, but I don't remember feeling very much pain," says Williams. "It was my first time having surgery and being completely put under. The drugs they gave me put me into another world. It was great; they were definitely effective."
Williams says she had no side effects from her opioid-free anesthesia, and took Tylenol and ibuprofen to manage pain for the first two or three days after surgery. Between her essentially pain-free procedure and well-managed recovery, she says she would certainly recommend opioid-free treatment to others.
Dr. Raju says nerve blocks result in higher patient satisfaction, help to suppress the opioid epidemic and, in general, are a much better approach to managing patients' pain. "This method is the newest treatment plan in pain management and follows the trajectory of where pain management is headed," he says.
Sawyer says that although opioids were the foundation of the practice when he was trained as an anesthetist in the 1990s, the transition to opioid-free care is much needed. "There are many equally effective ways to manage pain, and we have asked many questions in the process of shifting away from administering opioids," he says. "We consider what we're doing a real paradigm shift."