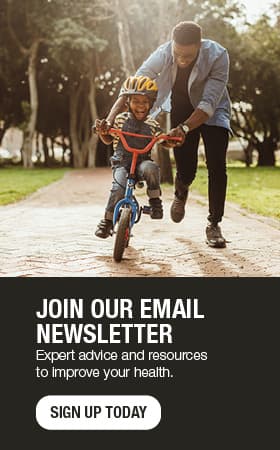 Manage your cravings after weight loss surgery
Whether you are preparing for surgery or are focusing on weight loss/maintenance after surgery, food cravings can pose a challenge in your everyday life. Cravings can be the result of stress, boredom, the environment you are in, not following a proper meal schedule or other reasons.
Cravings have little to do with nutrients and plenty to do with the brain chemistry of pleasure and reward. Cravings may center on texture (creamy, crunchy) or taste (sweet, salty), but they all have something in common: overindulging can sabotage your weight maintenance efforts.
It often seems that the only way to overcome a craving is to give in to it, but that isn't true. Cravings thrive on your thoughts. The more you think about the item you are craving, the more intense that craving becomes and the harder it becomes to resist.
How do you prevent a potential craving?
Do not skip meals. If you skip a planned meal or snack, you are putting yourself at risk for experiencing extreme hunger later on. With extreme hunger usually come cravings and unhealthy food choices. Give your body what it needs before you lose control.
Plan ahead. If cravings mainly strike when you're hungry, try eating healthy snacks between meals. Carefully planning your snacks can help you keep hunger and cravings at bay. Portion control is vital. Each snack should be less than 200 calories. Good choices include yogurt with fresh fruit, a hard-boiled egg, a fruit smoothie, or peppers and bean dip.
Be sure to stay hydrated. Drink at least 64 ounces of fluid daily. Dehydration can make you feel hungry and cause cravings.
Don't forget balance. Although protein remains the priority at your meals, it is important to include some healthy carbohydrates (fruit and whole grains), vegetables and healthy fats (nuts, olive oil, peanut butter, etc.) in your diet. Take into consideration your current dietary stage if you recently had surgery.
Resist sweets. Resisting sweets can be tough. Rather than depriving yourself until you cave, try indulging in a small serving of the desired food. If it's chocolate you crave, a small piece of dark chocolate might do the trick. Be careful using sugar-free candy, because it has a lot of calories and is usually high in fat. The fat and sugar alcohols in sugar-free candy also can bring on dumping.
Control your hunger. When you are trying to establish a regular meal pattern, you may need to rely on eating by the clock versus eating according to hunger. Even if you do not feel hungry at mealtime, make sure you eat something anyway. This ensures that you remain in control of your hunger.
Control the environment. You need to get all crave foods out of the house. If it's out of the house, it's unlikely you'll get into the car and drive to the store for it.
When cravings do occur, how do you manage them?
Try drinking water instead. When craving first strikes, you may actually be thirsty rather than hungry, and this will satisfy the urge.
Think of something else. Start reading a book, change the channel or call a friend. Occupy your mind so you can stop dwelling on the item you are craving.
Distract yourself with activities you plan ahead of time. Pick activities that are incompatible with eating. Walk your dog, paint your nails, wash your car, work in the garden or pick up your knitting. Choose activities that are incompatible with eating.
Avoid problem places. When you have a craving, do your best not to gravitate towards places that will make resisting it more of a challenge. This includes places such as the office vending machine, a fast food line or mall food court.
In our food-rich environment, you will have those times when you are bombarded with choices of healthy and unhealthy foods. Knowing that you have the ability to work through urges gives you the confidence to continue with your weight management efforts. By following a regularly scheduled meal pattern and tuning into your appetite signals, you can prevent and control cravings.