We are experiencing high call volumes:
Use your account on the Mayo Clinic app or patient portal to check symptoms, get care recommendations and make an appointment.
Posted By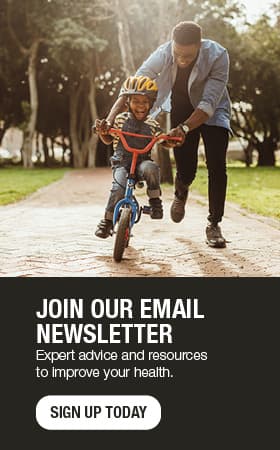 Could your leg pain be varicose veins?
If you've been feeling an achy, heavy feeling or a burning sensation in your legs, it may be symptoms of varicose veins. Varicose veins are enlarged veins that often develop as we age. When we get older, it can be more difficult for our blood to circulate properly. It's important to note that for most people, varicose veins are simply a cosmetic concern, but for others, varicose veins may lead to more serious health issues — such ulcers or blood clots.
Varicose veins are usually dark purple or blue-colored and tend to appear twisted or bulging.
Symptoms of varicose veins
Muscle cramping and swelling in your lower legs
Worsened pain after sitting or standing for a long time
Itching around one or more of your veins
Skin ulcers near your ankle
Self-care options to stop varicose veins from worsening
Exercising
Losing weight
Wearing looser clothes
Elevating your legs
Avoiding sitting or standing for long periods of time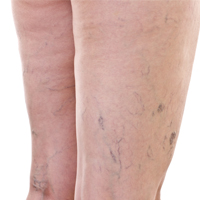 Purchasing compression stockings from your local pharmacy or medical supply store is often the first approach your health care team will suggest before trying other treatment options. Compression stockings are worn all day and help to circulate blood flow in your legs.
Alternative treatments
If these self-care options don't help to ease your pain, your health care team may suggest other options:
Sclerotherapy is a procedure where a health care provider injects varicose veins with a solution that scars and closes the veins.
Radiofrequency ablation is another option that is appealing to patients who would like to avoid incisions or needles.
Catheter-assisted procedures are often used for closing larger veins. The procedure includes heating up the tip of the catheter, which then destroys the vein by causing it to collapse and close.
Vein stripping is another treatment method. This includes removing a long vein through small incisions.
Ambulatory phlebectomy is a procedure available where your health care provider uses tiny punctures to remove small veins.
Endoscopic vein surgery is usually used for advanced cases where leg ulcers are present.
---
For the safety of our patients, staff and visitors, Mayo Clinic has strict masking policies in place. Anyone shown without a mask was either recorded prior to COVID-19 or recorded in a non-patient care area where social distancing and other safety protocols were followed.
Topics in this Post