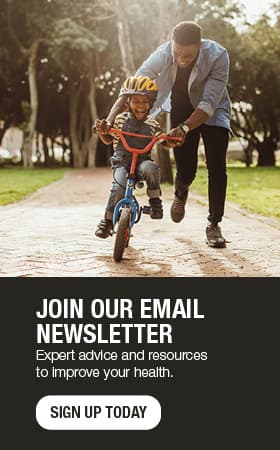 Minimally invasive procedure helps Mike Sandor's heart keep the beat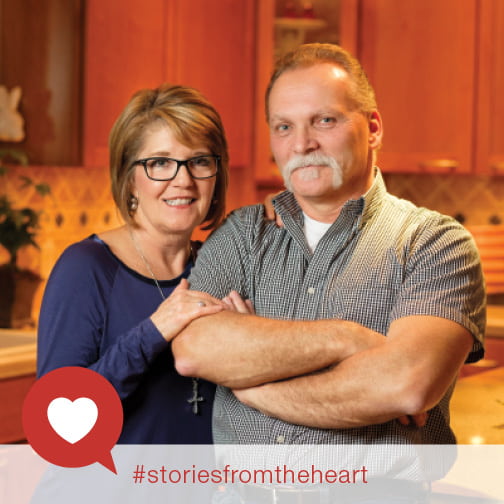 Dianne and Mike Sandor, of Eau Claire, Wisconsin, were lying in bed one Saturday morning, Dianne's head resting on Mike's chest. Suddenly, she sat straight up. "What was that?" she asked. She'd heard an odd sound, like the squeak of a mouse, coming from her husband's chest.
"I can still picture that moment," Dianne says. "I'd never heard anything like it. It was such a scary sound."
Dianne's reaction got Mike's attention. He made a trip to the emergency department and was diagnosed with a heart murmur — an unusual sound during the heartbeat cycle. Heart murmurs themselves are harmless but can sometimes be a sign of a serious heart problem.
Mike scheduled an echocardiogram to learn what, if anything, was causing the murmur. The test revealed a leaky valve, which was affecting the way blood flowed through his heart. After the doctor told him he didn't need treatment, Mike decided to get a second opinion.
"And that's when we got involved with Mayo," he says.
GETTING TO HEART OF THE MATTER
At Mayo Clinic Health System in Eau Claire, Mike met with cardiologist Thomas Roy, M.D., who had a very different recommendation. "Dr. Roy told me, 'Mike, we've got a problem. If we don't do something about this, you run the risk of developing irreversible congestive heart failure.'"
That got Mike's attention, too.
Dr. Roy recommended surgery to repair the valve, and introduced Mike to his colleague, Thomas Carmody, M.D., a cardiovascular surgeon.
MINIMALLY INVASIVE OPTION
In the past, repairing a heart valve would have required a large incision, splitting his breast bone. But Dr. Carmody told Mike that he was a good candidate for a minimally invasive procedure. Instead of a foot-long incision through the middle of his chest, Mike would need just a 2.5-inch incision between two ribs. That location allows surgeons to access the heart without splitting the breastbone. The result: less pain for most patients and a much quicker recovery.
"Dr. Roy and Dr. Carmody explained everything to us in terms that we understood," Mike says. "They told us they do the procedure quite often and very well."
In fact, Mayo Clinic Health System in Eau Claire is considered a high-volume practice, meaning surgeons have performed more than 400 minimally invasive valve surgeries. It's among a small number of U.S. hospitals to even offer the procedure.
"I had total faith in them," Mike says. "I wanted to have the surgery as soon as possible."
EXPERTS IN CURING — AND CARING
Surgery was scheduled for Jan. 29, 2017. "From beginning to end, everything went just like they said it would," Dianne says. "Everything went so smoothly."
Mike spent five days in the hospital and has high praise for the people who cared for him. "I can't say enough about the staff," he says. "Everyone was so professional. I was very impressed with everyone who came into my room."
Especially, perhaps, his doctors. "These guys come to work every day, and they're saving lives," Mike says. "They can't have a bad day. They are miracle workers."
After he was released from the hospital, Mike attended cardiac rehabilitation, an exercise and education program designed to help people who have had a heart issue or surgery recover and improve their health.
"I was anxious to get going, but they held me back from doing too much too soon," Mike says. "They told me we'd work slowly and surely. I'm not a patient guy, but I listened."
RECOVERY AND A NEW ROUTINE
That patience paid off. Little by little, Mike's strength and stamina increased. And soon he was feeling better than he had in years.
"My doctors told me that based on the size of my heart, they thought the valve had been leaking significantly for about two years," he says.
As he thinks back on that time, Mike realizes his energy level had changed. "I've always walked fast and worked fast," he says. "I'd run up the stairs two at a time. But I had slowed a bit the past couple of years. I figured it was just part of getting older."
A year after surgery, Mike is back to full-speed ahead and then some. He's taking the stairs two at a time again and hits the treadmill every day at 5 a.m. "It's a new routine for me," he says. "I'm working out like a madman."
He's doing everything he can, he says, to make sure his heart keeps beating for as long as possible.
"This experience made me realize that at the end of the day, life is short," Mike says. "I had a little scare, and I got very lucky. I'm still here. And I want to be for a long time. I have five grandbabies I need to stick around for."
And one wife, who is a very, very good listener.