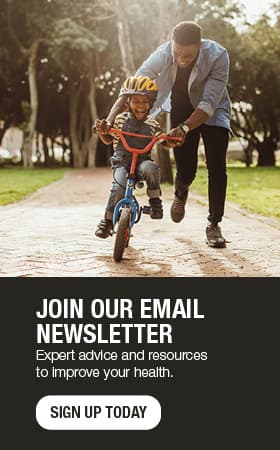 Compassionate care helps woman live well with cancer
Carol Lively will tell you she's really healthy — except for the cancer.
Lively's sense of humor and optimism remain firmly intact, in spite of a stage IV terminal cancer diagnosis.
"I don't spend any time thinking about my illness or when I'm going to die," she says. "I know I'm going to do well for a long time."
Lively's journey began in 2010, when she noticed pain in the upper right side of her abdomen. Then, she also began to have pain in her chest.
"I'm a nurse, and for months I diagnosed myself," says Lively, a 66-year-old La Crosse resident who worked at Mayo Clinic Health System — Franciscan Healthcare prior to her diagnosis. "I told myself I had a gallbladder problem. Then it was acid reflux. Wrong!"
In January 2011, a CT scan revealed the true cause of Lively's pain: a 7-centimeter tumor in her liver. Smaller tumors covered her lungs.
"I was shocked by the diagnosis," says Lively, who praises the staff who delivered the hard news, including her oncologist in La Crosse, Haleem Rasool, M.D. "Dr. Rasool was amazing when he talked 
to me."
Dr. Rasool was upfront about what she was facing. After he encouraged her to get her affairs in order, Lively updated her will, reconnected with old friends, and had frank conversations with her children and other family members about her end-of-life wishes.
She also started treatment, receiving chemotherapy once a week for three weeks, then having a week to recover before beginning another three-week cycle.
At first, Lively was resigned to the fact that the end of her life was near.
"I quit working, ate what I wanted to — which was a lot — and took out much of my retirement to complete all the projects on my house that were planned for the future," she says. She also traveled extensively.
But a year after her diagnosis, CT scans showed that her main tumor had shrunk to less than half its size, and most of the smaller tumors were gone. Follow-up scans have shown the same.
"I was fortunate that the very first chemo Dr. Rasool selected for me was the perfect one and I continue on it still," says Lively. "Cancer isn't a death sentence now. I consider mine like a chronic illness."
Like many chronic illnesses, cancer and cancer treatment come with side effects. For Lively, those include fatigue, pain, nausea and stress. To help her cope, she has taken advantage of integrative therapies offered at the Center for Health and Healing, located in the Mayo Clinic Health System-Franciscan Healthcare, including acupuncture and Reiki.
She also finds comfort in daily exercise, prayer and meditation.
"I've been meditating for 40 years, and always meditate while I'm receiving chemo," she says. "I also pray and I know I have many people praying for me. I believe in the power of prayer. I can feel it."
Lively continues to receive chemotherapy three weeks per month, a process she says is made easier by the staff who administer it.
"The nurses in the chemotherapy area are compassionate, knowledgeable and personable," she says. "They always give me a corner chair because they know that's where I like to sit. They make me feel very unique and special, and I bet they make every patient feel like that."
Today, Lively continues to travel. She's gone back to work part time, exercises and spends time in her garden.
"I try to make the most of my time," she says. "I'm very happy spending time with my family, friends and my two darling grandbabies."