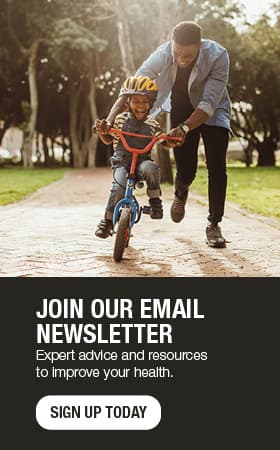 After heart attack, water skier looking forward to getting back on the water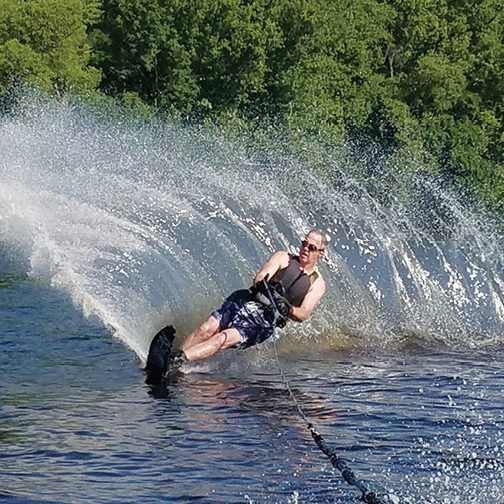 Brian Kanable was in one of his favorite places: out behind a boat on the Mississippi River, cutting back and forth across the wake. It's where he's spent three mornings a week for the past 15 summers, meeting up with friends to waterski before heading to work as the automotive instructor at Western Technical College in La Crosse, Wisconsin.
But this morning, something was different. "Brian doesn't look right," one of his friends said, just before the La Crosse resident collapsed. The boat raced back to where Brian had fallen and was floating face down in the water. His friends pulled him on board, called 911 and headed for a nearby marina.
LIFESAVING CARE
By the time they arrived a few minutes later, first responders were waiting. Paramedics quickly determined that Brian, whose skin had started to turn blue, was having a heart attack.
"The paramedics cut the life vest off me and started CPR," Brian says. "They pumped me full of medication, shocked me four times and worked on me for 25 minutes."
Once Brian was stabilized, he was taken to Mayo Clinic Health System in La Crosse, where Charles Cagin, D.O., a cardiologist, inserted five stents — small mesh tubes — to open blocked arteries leading to his heart.
"I don't remember any of it," says Brian, who spent 16 days in a medically induced coma to allow his body to heal.
Brian's wife, Julie, remembers it all. The days of dialysis. The body so filled with fluid that Brian looked, he was told, "like the Stay Puft Marshmallow Man from Ghostbusters." The five additional stents that had to be placed in Brian's arteries. The news that her husband, just 53 years old, might not survive.
MIRACLE MAN
"They call the kind of heart attack I had a widow maker," Brian says. "I had zero symptoms before I fell in the water. Most people don't survive it. It was traumatizing for my wife."
But slowly, fear turned to hope as Brian began to show signs of improvement and was brought out of the coma.
"Staff called me the 'Miracle Man,'" Brian says. "They told my wife that the condition I was in, only 5 percent of people survive."
WORKING HARD TO HEAL
But Brian's healing was far from over. It wasn't only his wife who had been traumatized by the heart attack; Brian's body and brain had as well. He would need considerable therapy to recover, and while in the hospital had daily sessions with cognitive, physical and speech therapists.
"Initially, I had problems with my memory," Brian says. "I couldn't remember how to spell my name or when my birthday was." Speech and cognitive therapy helped him get those memories back. "They told me not to think of the memories as lost, just temporarily displaced."
The heart attack also left Brian with physical challenges. The fit, active man who skied three times a week and regularly logged around 20,000 steps a day found himself unable to walk up a flight of stairs or even stand without assistance.
"I lost muscle tone and weight," he says of the weeks he lay unconscious. "When I first woke up, I couldn't get out of bed by myself."
Brian was determined to change that. He pushed himself during physical therapy, asking to do extra repetitions of the exercises that his therapist prescribed.
"I believe that if you're going to get better and make strides, you have to have a positive attitude and a goal," he says. "My goal was to get home."
That attitude and determination paid off. A month after nearly losing his life, Brian was able to walk out of the hospital.
GETTING BACK BEHIND THE BOAT
Brian continues to attend cognitive and speech therapy twice a week and physical therapy three times a week. He hopes his hard work will get him back behind the boat again by summer. "I would have skied the day after my heart attack if I could have," Brian says.
Physical therapist Heidi Youngbauer has tailored a routine to help him reach that goal.
"Waterskiing uses unique muscles, so Heidi put together a workout to get me good to go for skiing," Brian says. "She has me on the rowing machine and working with weights. She's catered PT to my lifestyle and needs, what I want to do and what I need to do. She's thinking outside the box."
Youngbauer wasn't the only staff member to offer such personal care.
"Everyone at the hospital, from the doctors to the people sweeping the floors, cares about you," Brian says. "They don't act like what they're doing is just a job. They treat you like a person. You feel like you're part of a family. And that support is awesome."
Brian says support from people outside the hospital has also helped him heal.
"We've had a tremendous amount of support from the community," he says. "People brought meals to the house, mowed our yard and visited us in the hospital. And Julie has been instrumental in my recovery. We're closer since going through this."
LIFE LESSONS
Brian is quick to find the good in his experience, which he says has been a valuable reminder of how short life can be.
"We're only on this planet for a little while," Brian says. He wants to make the most of that time. "I don't want to take things for granted. I want to do things to help make life better for the people around me."
And that's a lesson we can all take to heart.