Need to make an appointment?
Sports Medicine
Sports Medicine
The Mayo Clinic Health System Sports Medicine team in Onalaska offers a coordinated team approach to evaluate, diagnose and treat athletes as well as active people of all types — from high school and college team members to "weekend-warriors" — with activity-related injuries.
Our lead physician, Jake Erickson, D.O., a certified sports medicine physician, coordinates a compliment of providers to care for you.
Andrew Jagim, Ph.D., is an exercise physiologist, certified personal trainer and sports nutritionist. His research interests focus on the use of exercise and nutritional strategies to improve health, body composition and performance.
Our Sports Medicine team also includes Emergency Department providers, orthopedic surgeons, licensed athletic trainers and physical therapists that can address and treat the multitude of injuries that athletes face.
This team-based approach gives you access to a broad range of expertise and services, including:
Injury prevention and treatment
Concussion management
Weight loss support and guidance
On-site athletic performance and nutrition analysis for athletes
Comprehensive evaluation and treatment of sports- and activity-related musculoskeletal injuries
Cutting-edge, minimally invasive office procedures including ultrasound-guided injections for tendons and joints
Access to state-of-the-art rehabilitation equipment and personnel, including Mayo Clinic care
To make an appointment, call 608-392-5013.
Locations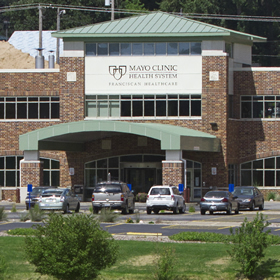 Clinic
191 Theater Road, Onalaska, WI 54650
Sports Medicine Hours:

Mon-Fri:

8:00 AM - 5:00 PM