Radiation Oncology
Mayo Clinic's Cancer Center is consistently a top-ranked cancer program by US News & World Report.
The Mayo Clinic Department of Radiation Oncology - Franciscan Healthcare Cancer Center is conveniently located to bring this top rated cancer care to La Crosse.
Mayo Clinic physicians and staff at the Cancer Center in La Crosse partner closely with their colleagues in Rochester to develop and implement accurate and effective treatment plans that are tailored to each patient. Physicians at the La Crosse facility participate in peer reviews with physicians in Rochester as well as our Radiation Oncologists located at other Mayo Clinic Health System sites, in addition to communicating with your local primary physician regarding your plan of care.
Advanced treatment programs for cancer patients available in La Crosse include:
Dedicated CT simulator: Using this technology, staff position patients on the CT scanner in the same position they'll be for treatment and perform a scan through the area being treated. Staff then reconstruct that scan three-dimensionally and base a treatment plan from the reconstructed data.
Image-guided radiation therapy (IGRT): IGRT planning begins by using imaging scans for treatment planning to help precisely direct the radiation beams to the targeted tumor tissue. Then, the target is imaged each day prior to treatment to verify the correct position of the patient, target and radiation beams. This allows for optimal daily treatment, minimizing the dose to normal tissue.
Three-dimensional conformal radiation therapy (3-D CRT): In this type of treatment, a computer is used to create a 3-D picture of the tumor to conform or match the radiation beam to the shape of the tumor. Many radiation beams are aimed at the tumor from different angles, sparing normal tissue as much as possible.
Intensity Modulated Radiation Therapy (IMRT): IMRT is an advanced type of three-dimensional radiation that conforms to the shape of a tumor. With IMRT, not only are beams aimed at the tumor from several directions, the intensity or strength of the beams can be adjusted to minimize the amount of radiation that reaches normal tissue.
Rapid Arc: A major advance in radiation therapy, Rapid Arc uses an improved type of radiation dosing that ensures even greater precision in the delivery of the beams to further spare the normal, healthy tissue. Another major benefit of this method is that it allows treatment times to be two to eight times faster than current radiation treatments. That means patient treatment time will be dramatically reduced for each daily visit.
Stereotactic body radiotherapy: Stereotactic body radiotherapy (SBRT) uses precisely focused radiation beams to treat specific tumors and other abnormal growths in the brain, spine, liver, lung or other sites. Computers create 3-D images to guide doctors in delivering radiation to the target area with minimal exposure to surrounding healthy tissue. This type of treatment utilizes higher daily doses but less number of treatments.
In some cases, patients may be referred to our Rochester location for additional services.
Clinical Trials: Patients have the opportunity to participate in clinical trials at Mayo Clinic Health System in La Crosse.
Department Hours:
Monday through Friday, 8 a.m. to 5 p.m.
Contact Information:
Please call the Cancer Center at 608-392-9510
Visit the La Crosse Cancer Center web for additional information.
Locations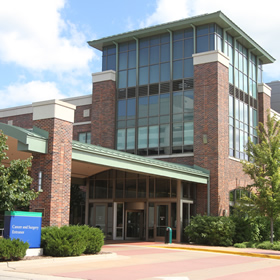 Cancer and Surgery Center
700 West Ave. S, La Crosse, WI 54601
Hours:

Mon-Fri:

8:00 AM - 5:00 PM
Providers