Radiation Oncology
Mayo Clinic's Cancer Center is consistently a top-ranked cancer program by U.S. News & World Report.
The Mayo Clinic Department of Radiation Oncology at the Cancer Center in La Crosse is conveniently located to bring this top-rated cancer care to you.
Mayo Clinic physicians and staff at the Cancer Center in La Crosse partner closely with their colleagues in Rochester to develop and implement accurate and effective treatment plans that are tailored to each patient. Physicians at the La Crosse facility participate in peer reviews with physicians in Rochester as well as our radiation oncologists located at other Mayo Clinic Health System sites, in addition to communicating with your local primary physician regarding your plan of care.
We've helped thousands of people with cancer and benign conditions requiring radiotherapy treatments, and we can help you.
Visit the La Crosse Cancer Center page for additional information.
Locations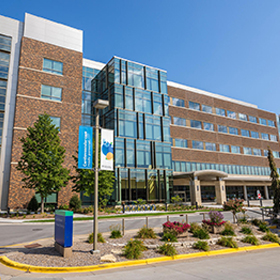 Hospital
700 West Ave. S., La Crosse, WI 54601
Hours:

Mon-Fri:

8:00 AM - 5:00 PM
Providers