Need to make an appointment?
Hospice
How You Can Help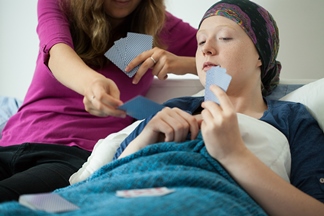 Volunteer
There are many ways to offer support as a hospice volunteer:
Play cards.
Address envelopes.
Make a speech.
Listen to cherished memories.
Make a meal.
Volunteer training and opportunities are available in patient and family bereavement, clerical support and fundraising projects. Orientation and training are provided in a variety of ways, including a DVD self-learning module, classroom setting and one-to-one instruction.
If you're interested in becoming a volunteer, submit the volunteer application or call 715-838-3262.
Memorials
Any gift can be made in memory of a loved one and is a meaningful way to say thank you. Memorial gifts are accepted by Mayo Clinic and can be designated to a specific hospice care location of your choice. When making your gift, please include a note that indicates the gift is to support hospice care, the specific hospice care location to receive the gift, and the name of the person you wish to honor (if desired). If you would like someone to be notified of the gift, such as a family member, please provide that person's name and mailing address. Mayo Clinic will send a notification of your memorial gift (the gift amount is not disclosed).
Please make checks payable to Mayo Clinic and mail to:
Mayo Clinic
Department of Development
200 First St. SW
Rochester, MN 55905
Your gift is processed at Mayo Clinic and the entirety of your gift goes to your designation at the site you specified. Gifts may also be made online at philanthropy.mayoclinic.org. For questions, contact the Department of Development by phone at 855-892-8129 or by email at development@mayo.edu.