Need to make an appointment?
Urgent Care
Urgent Care
Not feeling well? See a health care provider today!
If you are unable to see your primary care provider and need high-quality health care today, we offer several options where you can receive same-day care. Call 911 in a serious emergency.
If you'd like to seek medical care in Eau Claire, just walk in. You will be seen as soon as possible in Urgent Care, or we may be able to see you sooner in one of our primary care departments. You also may be seen virtually with Mayo Clinic Express Care Online, available through your Patient Online Services account.
Urgent Care provides same-day treatment for those age 1 week and older for minor health concerns such as:
Back, muscle or joint pain
Chest discomfort, such as acid reflux, trouble swallowing, or pain that increases with movement or deep breathing
Colds and flu including fevers (2 months or older), coughs, sore throats and ear aches
Concussion
Dizziness
Eye problems (adults)
Migraine headaches
Minor allergic reactions
Minor burns
Scrapes and cuts
Skin conditions, including rashes, poison ivy and insect bites
Sprains, strains and simple fractures
Urinary tract infections
Vomiting and diarrhea
Do you have other symptoms? Learn more about other options for same-day care.
Locations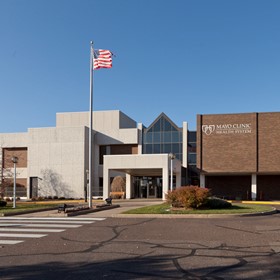 Clairemont Campus Clinic
733 W. Clairemont Ave., Eau Claire, WI 54701
Urgent Care Hours:

Mon-Fri:

8:00 AM - 8:00 PM

Sat-Sun:

9:00 AM - 5:00 PM

Holiday Hours:
● New Year's Eve & Day/Memorial Day/Labor Day/Christmas Eve: 8:00 AM - 4:00 PM
● Thanksgiving/Christmas Day: 9:00 AM - 3:00 PM
● Easter/July 4: 9:00 AM - 5:00 PM
Nora Martin, P.A.-C.
Urgent Care
Amy Thorpe-Swenson, M.D.
Urgent Care