Express Care
Quick, convenient care for common health concerns
Need to make an appointment?
Express Care in Austin, Minnesota
Express Care offers quick, convenient care for common health concerns to patients 18 months through 75 years. Express Care services include:
Same-day appointments.
Virtual same-day appointments through the patient portal
Express Care Online
Answer a diagnostic questionnaire in your patient portal, and receive a care recommendation within one hour if submitted between 8 a.m. and 7 p.m. If you submit after hours, you'll be contacted by 9 a.m. the next day.
Schedule an appointment
Schedule an appointment online through the patient portal, or call for an appointment.
Appointments are required. Make appointments online, by phone or at a kiosk at our Express Care location.
Conditions treated
For some conditions, different age ranges will apply. You may also be asked to schedule an in-person visit for some services.
Bladder infections (females, ages 12–75)
Dental issues
Ear pain
Ear wash
Medication renewal (short-term, non-narcotic)
Minor injuries (no head injuries)
Minor skin infections
Oral contraceptives (new prescriptions only, females, ages 18–34)
Pregnancy testing (urine)
Sports/camp exams (ages 11–24; excluding D1 college sports physicals)
Suture removal
Tick exposure
Wart removal (up to 4 warts per visit)
Vaccines offered
Conditions not treated
Check symptoms to reduce worry
Check Symptoms is a free online symptom evaluation tool available 24/7/365. It can give you peace of mind when symptoms start to worry you. Located within Mayo Clinic's patient portal, it allows you to answer a series of targeted questions to evaluate your symptoms and receive a care recommendation.
Locations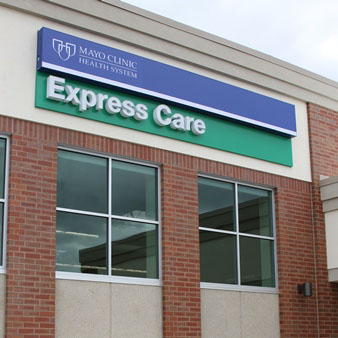 Express Care
1307 18th Avenue NW., (within Hy-Vee), Austin, MN 55912
Hours:

Mon-Fri:

8:00 AM - 7:45 PM

Sat-Sun:

9:00 AM - 4:45 PM
Providers