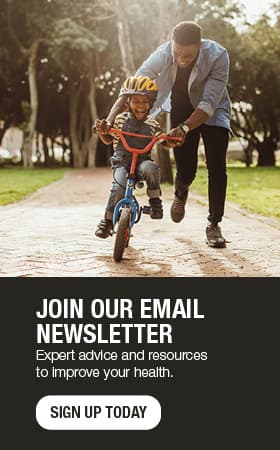 Don't delay getting your child vaccinated for COVID-19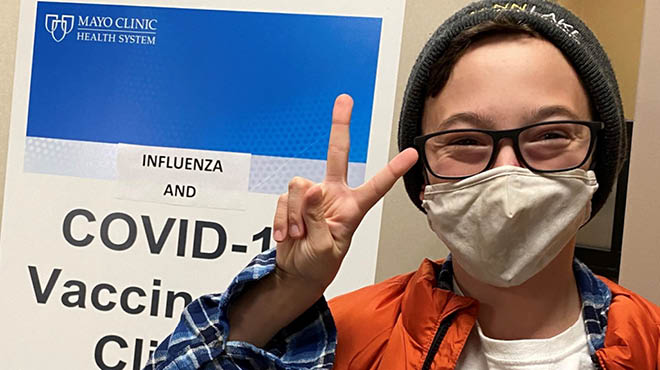 More than 28 million children ages 5–11 in the U.S. are eligible to be vaccinated for COVID-19. With the emergence of the delta and omicron variants, it's more important than ever to protect children by getting them vaccinated.
In clinical trials, the Pfizer COVID-19 vaccine was 90.7% effective in children 5‒11. The COVID-19 vaccine for 5- to 11-year-olds is one-third of the adult dose, but it is administered the same way: in a two-dose series, three weeks apart.
Omicron, a new COVID-19 variant, has been detected worldwide, including in North America. Research and clinical observations on the new strain are underway, but the emergence of omicron is a reminder to take essential steps to protect yourself and your children against COVID-19.
"So far during this pandemic, more than 1.9 million children in this age group have been previously infected with COVID-19. More than 8,300 have been hospitalized, and a third have been in intensive care," says Robert Jacobson, M.D., medical director for the Immunization Program for Primary Care in Southeast Minnesota. "Occasionally, we will hear adults say, 'Well, children don't get as sick with COVID-19,' but some do get very sick."
COVID-19 vaccines have been shown to prevent severe disease, hospitalization and death. They also reduce shedding and transmissibility.
"By vaccinating a 5- to 11-year-old, you are not only protecting that child from hospitalization and death, you also are protecting their loved ones around them," says Dr. Jacobson.
Vaccine safety
Tina Ardon, M.D., a Mayo Clinic family medicine physician, reminds parents that it is safe to vaccinate children 5–11 for COVID-19.
"The COVID-19 vaccine is extremely safe for our children. We have a number of studies that represent that we've had a number of children who have already received the vaccines, and we have been able to monitor those children closely. And we feel very confident this is a safe and effective vaccine," says Dr. Ardon.
She says the COVID-19 vaccines are similar to other childhood vaccinations regarding their administration and potential side effects.
"The COVID-19 vaccines in a lot of ways are no different than the other vaccines we have available. They're administered in the same way, either in the arm or in the leg, depending on the age of the child. The doses are appropriate for the age of the child, as well. There's no special follow-up that has to happen after receiving a COVID-19 vaccine. And the side effects are quite similar to other vaccines, including fever, muscle aches — but most likely pain, redness and swelling at the injection site," says Dr. Ardon.
Levi's experience
The Dahling family of Eau Claire, Wisconsin, was among the first in their community to schedule a COVID-19 vaccine appointment for their child.
In many ways, Levi Dahling is a typical 11-year-old boy. He likes to play guitar, swim and participate in Boy Scouts. One thing that makes Levi different is that he was born 15 weeks early.
"During pregnancy, I developed severe preeclampsia," says Levi's mother, Margot Dahling. "I was transported to Mayo Clinic in Rochester in the middle of the night. Levi was born at 25 weeks and was hospitalized for 116 days with a ventilator for breathing support."
During this time, Margot and her husband, Lucas Dahling, learned the importance of seeking expert advice and not relying on the internet for answers.
"I was Googling everything and getting worried. The doctors told me to put away my phone and write down my questions so they could answer them," Margot says. "I learned that you could read what you want on the internet, but you really need to have a conversation with your provider to get the correct answers."
After the family returned home, they continued to rely on Levi's health care team as they took steps to protect his health.
"His pediatrician told us that we needed to stay on top of vaccines when he was younger, especially anything that could impact his lungs like flu and whooping cough," says Margot. "He would get sick faster and worse than other kids, so we needed to do what we could to protect his lungs."
Like many others, the family was concerned when the COVID-19 pandemic began in early 2020. They talked with Levi's pediatrician about ways to protect him from the virus. They protected him by wearing masks in public places, avoiding large gatherings and restricting activities. In a way, the family felt that they had rehearsed for the pandemic when Levi was an infant.
"When Levi was a little baby, we needed to isolate and restrict visitors. We only went to the doctor's appointments and wore masks to protect him from viruses. Because of this, we had a little practice for this pandemic," Margot says.
The Dahlings and their friends anxiously waited for the development of a COVID-19 vaccine, celebrating each step along the way.
"I kept checking the Mayo Clinic app for when he could get his first dose," says Margot. "When that day came, we were so excited and also relieved to do our part for our community and the extra level of protection for him and our family."
After getting vaccinated for COVID-19 and sharing photos with their friends, the family went out to lunch and to the movies to celebrate.
"When he was little, there wasn't really a solution to the many potential threats," says Margot. "Now there is a solution for the threat we are facing. And the relief of knowing there is a vaccine available is so comforting for us."
Scheduling appointments
Parents or legal guardians can schedule COVID-19 vaccine appointments using the child's account on Patient Online Services or the Mayo Clinic App, or call their nearest location.
To be vaccinated for COVID-19, all children under 18 need to be accompanied by a parent or guardian.