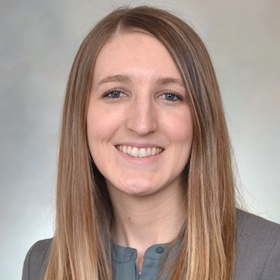 Locations & Services
Eau Claire, WI
Luther Campus Clinic
1400 Bellinger St., Eau Claire, WI 54703
My services at this location:
Provider's Bio
I enjoy providing behavioral health services in a primary care setting, as well as working with physicians, residents and other medical professionals on patient-centered communication. I enjoy treating a wide range of mental health diagnoses, with particular interest in treating PTSD, moral injury, chronic pain and depression. I also have a background in vocational psychology and like to work with patients on vocational focused topics. Additionally, I enjoy working with diverse populations.
When not at work, I like to spending time with my husband, son and two small rescue dogs. We enjoy going for walks, doing things outside, visiting grandparents and eating ice cream.
Training & Credentials
Education
Bachelor's degree, Psychology, University of Wisconsin-River Falls
Master's degree, Counseling Psychology, The University of Southern Mississippi in Hattiesburg
Doctorate, Counseling Psychology, The University of Southern Mississippi in Hattiesburg
Internship
Doctoral Psychology, William. S. Middleton Memorial Veterans Hospital, Madison, WI
Fellowship
Integrated Primary Care Behavioral Health, University of Minnesota-Twin Cities
Special Interests
Chronic pain
Depression
Moral injury
Post-traumatic stress disorder (PTSD)