Need to make an appointment?
Anticoagulation
Our Anticoagulation Clinic at Mayo Clinic Health System in Onalaska uses a team approach, including you, your doctor and a registered nurse, to best manage your anticoagulation therapy. Our team's goal is to make sure your use of medications, such as warfarin or coumadin, is effective. We also will work to lessen the risk of complications that sometimes may come with using these medications.
Your family members are always welcome at appointments so an appropriate circle of loved ones also understands your treatment plan. Questions are welcome at any time, either at appointments or by phone.
Clinic introduction
Your health care provider will complete a written referral to the Anticoagulation Clinic if he or she believes your condition warrants. You will be contacted by a nurse from the clinic, and an initial appointment will be scheduled.
Clinic nursing staff
Once enrolled in the Anticoagulation Clinic, your relationship with the registered nurses will involve these steps or activities:
Perform a blood test (INR) by obtaining a drop of blood from your finger.
Make adjustments to your warfarin or coumadin dose based on the results of this test.
Instruct you in the medication dosage and how to take it safely.
Help you understand how your diet affects your medication's effectiveness.
Help you be aware of warning signs and other indicators while taking anticoagulants.
Help you to know what to do if you are ill or injured.
The nurse will record your information in your electronic medical record for your physician to view.
Your regular health care provider
The Anticoagulation Clinic does not take the place of your regular provider visits for routine care or illness. Your provider will always be the director of your ongoing medical care.
In partnership with your regular provider, the registered nurse will:
Conduct the routine management of your anticoagulation care.
Make adjustments in your therapy according to protocols adapted by your provider.
Be an additional resource for you.
If at any time your condition requires a provider's care, the nurse will contact your provider on your behalf.
Contact Anticoagulation Clinic staff with questions or concerns about your therapy or if you've had a visit to the Emergency Department, any hospitalizations, started new antibiotics or changes in diet.
Locations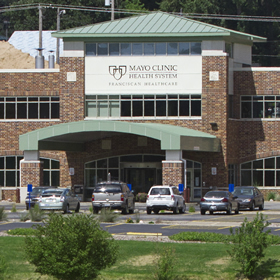 Clinic
191 Theater Road, Onalaska, WI 54650
Hours:

Mon-Fri:

8:00 AM - 5:00 PM