Urology care made personal
Need to make an appointment?
Urology
Urologic Robotic Surgery in La Crosse
Robotic surgical systems provide surgeons who are performing urologic surgeries an alternative to traditional open surgery and minimally invasive laparoscopy, putting the surgeon's hands at the controls of a robotic platform. The system helps surgeons perform even the most complex, delicate procedures through small incisions with superior precision.
Traditional open urologic surgery, using a large incision for access to the urinary system and surrounding anatomy, has been the standard approach for many procedures for years. However, patients of open surgeries can experience significant pain and trauma, long recovery times, and threats to surrounding organs and nerves.
Robotic urologic surgery can be an excellent choice if you are not a candidate for traditional urologic surgery. Your doctor may recommend a robotic procedure if you have surgical scars or an anatomical irregularity that limits your options. Using robotic surgery, surgeons can perform procedures that may have been difficult or impossible with other techniques.
Surgeons have more flexibility, control and maneuverability using the surgical instruments in robotic surgery than in traditional minimally invasive surgery. The robotic system includes a camera arm and several interactive mechanical arms with joints that work like a human's wrist. From the remote console, the surgeon uses two hand-and-finger devices to precisely direct the mechanical arms at the operating table. He or she leads a trained surgical team during the surgery.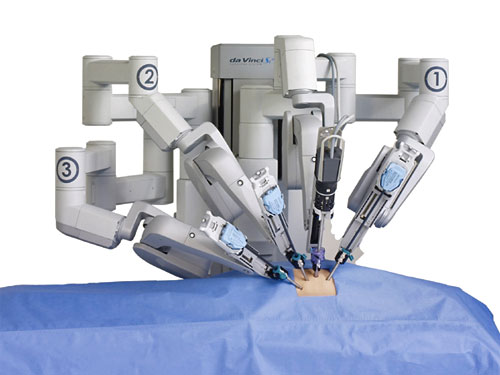 Benefits of robotic surgery for urologic procedures include:
Better clinical outcomes in many cases
Faster return to normal activities
Less blood loss
Less narcotic use
Less pain
Less tissue trauma and scarring
Shorter recovery time
Robotic-assisted urologic procedures include:
Adrenalectomy, or adrenal removal
Partial, simple or radical nephrectomy, or kidney mass or kidney removal
Prostatectomy, or prostate removal
Pyeloplasty, or reconstruction of the renal pelvis
Ureter reconstruction
Robotic surgery also is provided in La Crosse by: