Meet Luna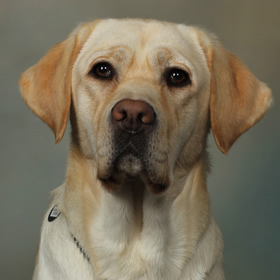 Mayo Clinic Health System in La Crosse is the first health system location to have a full-time, trained facility dog. Lunar III, known as Luna, graduated from Canine Companions for Independence in Delaware, Ohio. She was assigned to Mayo Clinic Health System free of charge.
Luna is an expertly trained assistance dog and can understand over 40 commands. She is trained to assist patients and the health care team in the hospital setting
Luna's commands can be modified for patients' needs. She can assist with exercise, motivation and calming; open and close drawers or doors closed; retrieve all kinds of items; and pull pediatric patients in wagons or on scooter boards or helping them swing.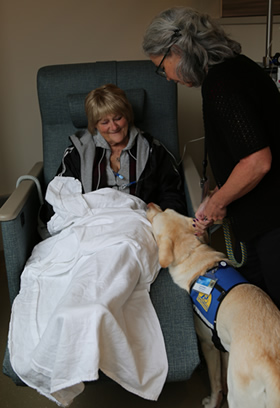 Luna lives and works alongside Lisa Morgan, a supervisor in Occupational Therapy at Mayo Clinic Health System in La Crosse. She visits patients and staff in the Stephen and Barbara Slaggie Family Cancer and Blood Disorders Center, Cardiac Rehabilitation, Rehabilitation Services, Acute Care and other departments. She assists La Crosse's child life specialist and travels with Morgan to other clinics in the region, including Onalaska, Sparta and Tomah.
While Luna will provide comfort and support to patients and the healthcare team, she is different than a therapy dog. Therapy dogs are commonly found at hospitals, schools and nursing homes, and are solely there to provide joy to others. It's important to remember that no national standards exist for the training of therapy dogs, and they are not certified. Rather, the dog-handler teams that pass evaluations are registered as a team, according to Canine Companions for Independence.
On the other hand, facility dogs are bred for this line of work and must pass the nationally standardized public access test administered by a certified evaluator. Luna must pass follow-up assessments periodically to ensure safety in a public setting.
Luna can be requested to visit or participate in patient care, and she also can be requested to visit families and staff members.