Community Engagement
La Crosse Building Lighting Program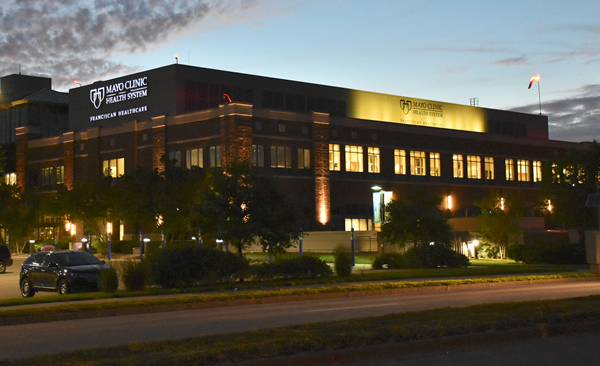 The east face of the Cancer & Surgery Center is lit in yellow to support social justice awareness.
We strive to be a valued community partner and appreciate your interest in our campus lighting program.
The campus lighting program welcomes the opportunity to highlight important initiatives taking place in the communities we serve, especially those related to health and wellness. Nonprofit organizations associated with health and wellness events and causes are invited to request lighting in a specific color of the West Avenue side of the Cancer and Surgery Center in La Crosse to heighten awareness of an event or cause.
Please review our lighting guidelines before submitting a request. Requests need to be made at least four weeks before the desired lighting date. Community Engagement will respond within two weeks of receiving your application. If approved, the Cancer and Surgery Center will be lit in the color(s) of your choice for one evening. In addition to your own promotion, we will share details about the lighting event internally and externally, as appropriate.
Lighting program guidelines:
Applying to become a Mayo Clinic Health System lighting partner does not guarantee approval.
Lighting approval is the sole discretion of Mayo Clinic Health System. Not all requests can be accommodated.
A group or cause may request one lighting dedication for one evening per calendar year.
Previous acceptance as a Mayo Clinic Health System lighting partner does not guarantee future approval.
Only the official applicant or contact on the original submitted application will receive notification stating application approval or denial.
Lighting will only occur on the Cancer and Surgery Center in La Crosse on the side facing West Avenue. Other Mayo Clinic Health System buildings will not be lit.
Signs promoting the lighting or related events are not allowed on Mayo Clinic Health System campuses.
Lighting partners are expected to promote the lighting event to their constituents and the community. We can provide verbiage for you to use, but if you alter it or use the Mayo Clinic Health System logo, please submit it to Community Engagement for approval.
Complete a lighting application.
Direct questions to Community Engagement.