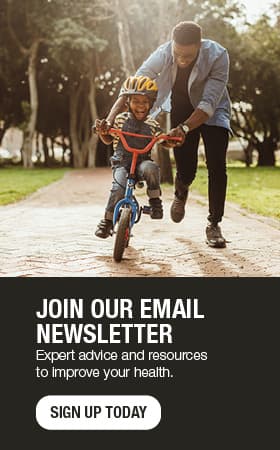 Yoga therapy can help you heal, inside and out
Every Wednesday night, Gordy Wanshura rolls out his yoga mat on the floor of the Mayo Clinic Professional and Community Center in Red Wing.
"If you'd have told me two years ago that I'd be doing yoga I never would have believed it," says Wanshura.
But that was before he had surgery to open up five blocked arteries leading to his heart.
"I ignored my body for 30 years," says Wanshura. "Now I'm paying attention."
Yoga therapy is helping him do that. He was introduced to yoga during cardiac rehabilitation in Red Wing.
"We were given the chance to take an introductory yoga class to help with stress reduction," says Wanshura. "I tried it and discovered a whole new set of muscles."
He also discovered that he liked yoga and has continued to attend class each Wednesday evening. The class, designed to improve health and healing, is taught by Michele Hoffman, a yoga therapist at the Healing Arts Program at Mayo Clinic Health System in Red Wing. who practices in Red Wing and Cannon Falls. Hoffman leads Wanshura and others living with chronic health conditions through breathing and stretching exercises designed to help reduce stress and increase flexibility. He says the classes have done both.
"Yoga has made me more aware of my body," says Wanshura, who also took a private, one-on-one class from Hoffman. "My balance has greatly improved and it's helped me out with little aches and pains. It's also helped open up my chest area after surgery. It's made a big difference in my recovery."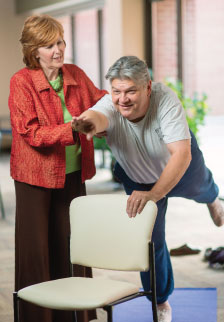 That doesn't surprise Hoffman, who discovered yoga 25 years ago. She became a certified yoga therapist 13 years ago, after a car accident left her with back and neck pain.
"Yoga helped me heal physically and mentally," she says. "My life was transformed."
So much so that she left an established career in IT management to become a therapeutic yoga instructor, a designation she received after completing 1,000 hours of training over four years.
That training has helped Hoffman learn to tailor her classes to the individual needs of her students. "I do a check-in at the start of every class to find out what is going on physically with each person that day," she says.
Wanshura says Hoffman is remarkably tuned in to her students' needs.
"She takes time to get to know what each individual person is dealing with," says Wanshura. "She really keeps a close eye on everyone throughout class."
While yoga's gentle movements are important, Hoffman says the bigger benefits come from the practice's emphasis on breathing and relaxation.
"Yoga therapy can reduce stress, which can have a huge impact on so many health problems, including chronic pain, rheumatoid arthritis and diabetes," she says. "People don't know how to relax or shut off anymore. Yoga can help people relearn that. It can teach people how to activate a relaxation response to counter the stress response so many of us live with all the time."
It seems to be working for Wanshura.
"Since starting yoga, Wednesdays are my favorite day of the week," he says.