Need to make an appointment?
Obstetrics & Gynecology (OB-GYN)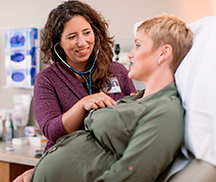 If you are ready to start or grow your family, we are here to help. Our team of experts provides exactly the care you need — from pre-pregnancy planning to delivery and postpartum care. When it comes to pregnancy, thinking ahead can give you and your baby the best possible beginning.
Preparing to become pregnant

Is it the right time?

Here are some questions you may ask yourself in determining whether the time is right:

Why do I want to have a baby?
Does my partner feel the same way I do? Do we share the same ideas about how to raise a child? If not, have we discussed our differences?
How will having a baby affect my current and future lifestyles or career? Am I ready and willing to make those changes?
Is there a lot of stress in my life right now that could interfere with my ability to become pregnant or enjoy my pregnancy? What about for my partner?
Emotionally, are we ready to take on parenthood?
Financially, can we afford to raise a child? If I'm single, do I have the necessary resources to care for a child by myself?
Does my health insurance plan cover maternity and newborn care?
If I decide to return to work, do I have access to good child care?

Is your body ready?

Determining if your body is primed for the task at hand is equally as important as being emotionally and financially ready. Learn more about preconception planning to find how to boost your chances of a healthy pregnancy.

How to get pregnant

If you're wondering what the best approach is to becoming pregnant, here's what you need to know, and some tips to help you form that perfect union of egg and sperm: tips for becoming pregnant.

Are you pregnant?

Maybe your period is a day or two late, or maybe it's just a gut feeling you have, but you think you might be pregnant – and you must know now! If you've been trying to conceive, look for these common pregnancy symptoms to occur. Once you determine you are pregnant, call us to make a prenatal appointment. Your first visit with us is typically eight weeks into your pregnancy.

Having the right "match" between you and your healthcare provider is an essential part of your pregnancy and baby's birth. That's why we offer expecting parents options of providers, in a variety of locations. More information about obstetrician-gynecologists, nurse practitioners, family physicians and certified nurse midwives is listed here.

Obstetrician-Gynecologist Physicians
Obstetrician-gynecologists (commonly referred to as OB/GYNs) are specialists in women's care and during pregnancy. The OB/GYN provides prenatal counseling and care, and care during childbirth. OB/GYNs are able to provide medical and surgical management of reproductive-related disorders and diseases. Many women appreciate knowing that if her situation could change or if a cesarean delivery would be needed, the OB/GYN is trained to handle high-risk situations. They rotate through call for deliveries and are available for women who have questions or concerns during non-clinic hours, as well as serve as back-up for high-risk deliveries.

Family Physicians
Family physicians are medical doctors who are specially trained to care for people of all ages. Women who are considering pregnancy can see a family physician for their preconception care, prenatal care and counseling, and care through childbirth and beyond. A family physician tends to be the person who is present during the delivery of your baby. Family physicians also can take care of the medical needs of infants, children, you and your entire family. Many parents appreciate the continuity of the provider who delivered their baby continuing to care for their little ones after they are born.

Certified Nurse Midwives
A certified nurse midwife is a registered nurse with advanced education in women's health issues. We also offer midwifery care before, during and after pregnancy to women who choose this option. Certified nurse midwives focus on the importance of patient participation, patient and family education, commitment to low intervention and highly supportive care. Our certified nurse midwives share delivery call for their patients. The certified nurse midwives and physicians work collaboratively as needed to bring you a safe and satisfying birth experience. If necessary, certified nurse midwives receive medical back-up from OB/GYNs.

Obstetrician-Gynecologist Nurse Practitioners
Obstetrician/gynecologist (OB/GYN) certified nurse practitioners are registered nurses with additional education and training who specialize in women's health. Our OB/GYN physicians team up with certified nurse practitioners to provide care during your pregnancy. You will see a certified nurse practitioner for some of your clinic visits and your 6-week follow up visit after delivery. An OB/GYN will deliver your baby.

Healthy Choices During Pregnancy

Diet – During pregnancy, you'll be eating for two (you and your baby). But don't think of this as eating twice as much. Instead, think of it as eating twice as well. Most of your baby's major organs form during the first few weeks of pregnancy. Eating well helps create ideal conditions for early fetal development. You'll want to be sure you're consuming more of certain nutrients, such as iron, calcium, folic acid and other essential vitamins and nutrients. It's also important to know which foods to avoid while pregnant.
Avoid excess caffeine – Caffeine can cross the placenta and affect your baby's heart rate. Because of the potential effects on your developing baby, your health care provider might recommend limiting the amount of caffeine in your diet to less than 200 milligrams a day during pregnancy. For perspective, an 8-ounce cup of brewed coffee contains about 95 milligrams of caffeine and a 12-ounce caffeinated cola soft drink contains about 33 milligrams.
Exercise – During pregnancy, certain exercises help limber up your joints and muscles you'll rely on during labor and delivery. Certain exercises can also help relieve the aches and pains that often accompany pregnancy, such as back pain or leg cramps. Learn more about ways to get moving during pregnancy.
Medications – Hopefully, you'll enjoy a smooth and uneventful pregnancy. However, pregnancy doesn't keep away all of the ailments of everyday life. You may still get colds and headaches and have to deal with allergies and aching joints. As a general rule, it's best to use caution and avoid use of medications during pregnancy when possible. Some drugs can cause an early miscarriage or impair your baby's development. It's best to check with your care provider before taking any medicine, be it prescription or over-the-counter. He or she can help you make the right decision based on your health history and the medication in question.
Working while pregnant – When you become pregnant, going to work can seem like agony if you're dealing with morning sickness and fatigue. For some women, work can be a good way to occupy their minds while waiting for baby to arrive. Use these tips to help make working during pregnancy more comfortable. The working during pregnancy tips can also apply to chores you do at home.

Resources for Dads and Partners

If you're an expectant parent – but not the pregnant one – you may be wondering where you fall in the grand scale of all things baby. It's important to be involved in your partner's pregnancy, from going along to the first doctor's visit to being a labor coach in the delivery room. Here are some ways to be involved in your partner's pregnancy right from the start:

Offer to run out and purchase the pregnancy testing kit – It's never too early to get involved. Finding out together is an exciting confirmation that you're going to be a parent.
Attend prenatal visits – Even if you can't make it to all of her doctor visits, try to go to the first visit and one that includes an ultrasound. If you're the biological father, sharing your personal and family medical history with your partner's doctor can help determine the best prenatal care for your baby.
Talk to your partner – Non-pregnant partners often get most of their information directly from their pregnant partners. It's important that the two of you talk about your emotions and her physical sensations as you proceed through the pregnancy.
Get to know your baby – Talk and sing to your baby while massaging your partner's belly. There's evidence that babies recognize voices and sounds they've heard often in utero.
Support your partner in a healthy lifestyle – During pregnancy, team up with your partner to eat a balanced diet, exercise regularly and get plenty of rest. It's not only good for her and the baby; it's good for you too. If you smoke, don't smoke around your partner, as the chemicals in secondhand smoke can be harmful to the baby.

Learn more about helping your partner manage stress with these tips.

Do you plan to feed your baby with breast milk or formula?

Some women know the answer to this question right away; others struggle. The benefits of breast-feeding are well established. Breast milk contains the right balance of nutrients for your baby, and the antibodies in breast milk boost your baby's immune system to help fight disease. But sometimes breast-feeding isn't possible. Feeding your baby formula instead of breast milk shouldn't lead to feelings of guilt. Feeling guilty isn't good for you or your baby.

If you plan to breast-feed your baby, our providers and nurses who care for you offer a professional, knowledgeable and supportive approach to enhance your breast-feeding experience. Follow these important breast-feeding tips to ensure your baby has the right amount of nutrition.

Review the breast-feeding services available when you have your baby in The BirthPlace.

Caring for yourself after delivery

After having your baby, you may wonder if your body will ever return to normal. It takes time to recover from the changes that occurred over the previous 10 months. Some issues you may deal with as your body changes include:

The baby blues – Most new mothers may feel depressed to some degree after giving birth. The abrupt drop in levels of the hormones estrogen and progesterone after childbirth compounded by a loss of sleep, likely causes the baby blues and contributes to postpartum depression. If you find yourself struggling with the baby blues, try these tips:

Shower every morning and get dressed.
Don't lie around. Physical activity helps boost levels of endorphins, body chemicals that give you a natural high.
Eat well. You'll feel better if you munch on healthy snacks than if you load yourself down with carbs and sugar.
Get out of the house. Some fresh air, a change of scenery and casual conversation can help stave off feelings of gloom and doom.

Learn more about signs, symptoms, and risk factors of postpartum depression. Talk with your care provider if your symptoms are severe or last longer than a few weeks.

Breast care, hair loss, skin care and weight loss – Try our postpartum care tips to help you through the first few weeks after childbirth. It's not realistic to expect to bounce back quickly after giving birth, but over time you'll start to feel better physically and get back in shape.
Breast self-examination – Breast self-examination can be more difficult during pregnancy and breast-feeding, but being observant of your breast appearance and consistency is still important. Your breasts will feel very different while nursing. If you're concerned about a lump, check your breasts right after you've fed your baby, when your breasts are emptier and any abnormalities may be more obvious.
Bowel and urination problems – For the first few days to weeks after birth, going to the bathroom can be an uncomfortable experience. It takes a while for damaged tissues to heal and urination and bowel movements to return to how they were before you gave birth. Learn more about bladder and urination problems and how to deal with vaginal soreness.
Related Upcoming Classes and Events View More