Pharmacy Services in Onalaska
Our pharmacists in Onalaska, Wisconsin, can assist you with the proper administration of your prescription, as well as advise you on over-the counter medications.
Pharmacy services include:
Fast, efficient prescription filling
Easy, drive-through access
Convenient one-stop from doctor's office to pharmacy
Integrated care between physicians and pharmacy
Friendly, caring staff
Pharmacist review of your medication history with every fill checking for interactions and other possible concerns
Prescription flavoring of medications for children
Wide selection of over-the-counter products and medications, including vitamin D, fish oil and probiotics
The pharmacy is conveniently located inside the Onalaska clinic on first floor to the right of information desk next to Pediatrics.
You also can visit our pharmacy locations in Holmen and La Crosse.
---
SeniorCare
SeniorCare is Wisconsin's Prescription Drug Assistance Program to help Wisconsin residents 65 or older who meet the eligibility criteria. Residents must submit an application along with an enrollment fee for each applicant for a 12-month benefit period. Information and applications are available from the Wisconsin Department of Health Services.
Seniors also may call the local county Department on Aging for information or the SeniorCare Customer Service Hotline at 1-800-657-2038.
---
Medication disposal
When was the last time you cleaned out your medicine cabinet? Unused medications left in your cabinet have the potential to fall into the hands of those who shouldn't be using them, which could lead to drug abuse or accidental poisoning. We provide a safe, convenient way to dispose of unused or expired prescriptions and over-the-counter medicines in La Crosse, Wisconsin, and other locations.
Medication disposal receptacles are available at these Mayo Clinic Health System pharmacy locations in Wisconsin:
You don't need to be our patient to use the disposal receptacles, which are available during pharmacy business hours. Medications can't be retrieved once disposed of in the receptacles.
Locations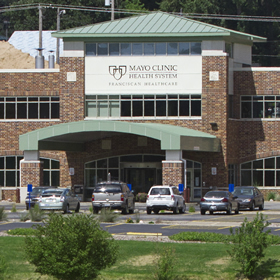 Clinic
191 Theater Road, Onalaska, WI 54650
Pharmacy Hours:

Mon-Fri:

7:00 AM - 6:00 PM

Sat:

9:00 AM - 12:00 PM