Need to make an appointment?
Pharmacy
Our outpatient pharmacy in Menomonie, Wisconsin, offers prescriptions, over-the-counter medications and medication disposal. We are located inside the main clinic entrance.
Prescription refills and transfers
Online refills
Express online refill service is limited to sending the refill request to the same pharmacy where it was last filled. If you would like to change your pick-up location, you must call the preferred pick-up pharmacy location first.
Call-in refills

Please have your prescription numbers ready.
If you would like to pick up your refill at our pharmacy, please call that location and utilize the phone refill service.
If a new prescription has been placed on hold at a pharmacy, please call the pharmacy to request that prescription be filled.

Transfers
If you would like to transfer your prescription from another pharmacy to our pharmacy, please call the location of your choice during regular business hours and speak to a pharmacy representative. Please have available:

Patient name
Prescription number
Date of birth
Insurance information
Name of the pharmacy where it currently is filled
Medication disposal
When was the last time you cleaned out your medicine cabinet? Unused medications left in your cabinet have the potential to fall into the hands of those who shouldn't be using them, which could lead to drug abuse or accidental poisoning. We provide a safe, convenient way to dispose of unused or expired prescriptions and over-the-counter medicines in La Crosse, Wisconsin, and other locations.
Medication disposal receptacles are available at these Mayo Clinic Health System pharmacy locations in Wisconsin:
You don't need to be our patient to use the disposal receptacles, which are available during pharmacy business hours. Medications can't be retrieved once disposed of in the receptacles.
SeniorCare
SeniorCare is Wisconsin's Prescription Drug Assistance Program to help Wisconsin residents 65 or older who meet the eligibility criteria. Residents must submit an application along with an enrollment fee for each applicant for a 12-month benefit period. Information and applications are available from the Wisconsin Department of Health Services.
Seniors also may call the local county Department on Aging for information or the SeniorCare Customer Service Hotline at 1-800-657-2038.
Locations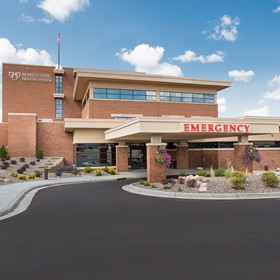 Hospital and Clinic
2321 Stout Road, Menomonie, WI 54751
Hours:

Mon-Fri:

8:30 AM - 6:00 PM

Sat:

9:00 AM - 12:00 PM