Need to make an appointment?
Orthopedics
Working Together
The Onalaska Clinic offers you experts in both
Orthopedics
and
Sports Medicine
who collaborate on the diagnosis and treatment of most any activity-related injury or condition.
Orthopedics | Orthopedic Surgery
Whether your injury is related to home, work or recreation, the return of efficient function is crucial. We use the most recent advances in diagnosis, technology, treatment and rehabilitation for disorders and injuries to bones, joints, ligaments, tendons, muscles or nerves.
When you experience any sports-related injury or issue, you want prompt, proper diagnosis and treatment. Our Sports Medicine team can provide exactly the care you need by customizing a treatment program to meet your individual needs and goals. Your injury is carefully assessed for the treatment needed, and you will receive resources regarding prevention techniques, conditioning and nutrition counseling.
We use minimally invasive procedures whenever possible to reduce your pain and speed your recovery for:
Foot and ankle injuries
Fracture trauma and care
Hand injuries
Joint replacement
Pediatric orthopedic conditions
Shoulder pain or injuries
Sports injuries
Orthopedic services also are available in La Crosse, Prairie du Chien, Sparta and Tomah.
If your situation or injury requires surgery, our board-certified orthopedic surgeons in La Crosse use the latest techniques and advanced technologies to provide a personalized surgical solution just for you. Our surgeons perform minimally invasive arthroscopic surgery, which utilizes smaller incisions and video imaging for less pain and damage to connective tissues, and a faster recovery.
Surgical procedures we perform include:
Anterior cruciate ligament (ACL) reconstruction and other sports-related injuries
Arthroscopic knee surgery
Digital nerve repair and reconstruction
Elbow repair
Hand and wrist surgery
Hip replacements (including less-invasive anterior hip replacements) and revision surgeries
Knee replacements and revision surgeries
Orthopedic trauma
Peripheral nerve disorders and nerve transfers
Reconstructive microsurgery
Reverse shoulder arthroplasty
Rotator cuff repair
Shoulder replacements and revision surgeries
Tendon transfers and soft-tissue reconstruction
Wrist arthroscopy
After surgery, you will meet with your surgeon to discuss rehabilitation. Our integrated practice enables you to receive coordinated rehabilitation treatment, including physical and occupational therapy and, in some cases, home health services. Our goal is to provide you a recovery plan that ensures a successful, smooth return to your daily activities.
Call 608-392-9876 with questions or to schedule your appointment. No referral is needed.
Locations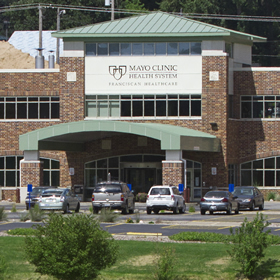 Clinic
191 Theater Road, Onalaska, WI 54650
Hours:

Mon-Fri:

8:00 AM - 5:00 PM