Our Locations
With locations across the Midwest, you have the ability to receive Mayo Clinic care close to home.
Need to make an appointment?
Plastic & Reconstructive Surgery
Facial Surgery Services in La Crosse
Beauty has many forms, but the most beautiful thing is confidence and loving yourself. Having you feeling confident and smiling at your reflection is the goal our Plastic & Reconstructive Surgery specialists strive to fulfill.
These surgical options can help you look refreshed, rejuvenated and naturally beautiful:
Cancer reconstruction
This involves removal and reconstruction of the skin after cancerous tumors are removed from the skin of the head, neck or face. Cancer in the areas of the eyelids, nose, mouth and lips are best treated with Moh's surgery. This surgery minimizes the amount of tissue removed. Our plastic and reconstruction team works in collaboration with the Department of Dermatology for reconstructive options to restore form and function.
Eyebrow (forehead) lift
This surgical procedure improves the appearance of the forehead, brow and area around the eyes by removing excess tissue and tightening the forehead skin. During a brow lift, the surgeon uses small incisions to raise the soft tissue and skin of the forehead and brow. An eyebrow lift can be done alone or with other facial procedures, such as eyelid surgery.
Eyelid surgery (blepharoplasty)
This procedure corrects drooping upper lids and puffy bags below the eyes. This is accomplished by removing excess skin and fat from the upper and lower eyelids to give you a more youthful, energetic appearance. If drooping eyelids interfere with your vision, your insurance may cover the procedure. Blepharoplasty can be performed alone or in conjunction with other facial surgery procedures, such as a face-lift or brow lift.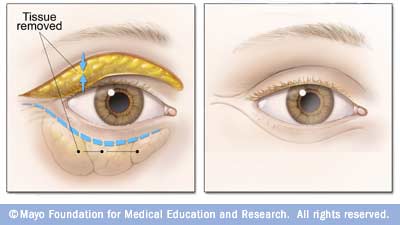 Ear surgery (otoplasty)
This surgical procedure is designed to reshape ear abnormalities. It's most commonly performed for ears that appear to stick out farther than normal by setting the ears closer to the head, and for ear abnormalities related to trauma or from cancer removals. During otoplasty, a surgeon changes the shape, position or size of the ears. Incisions can be made on the backs or within inner creases of the ears. This procedure is available to patients of all ages.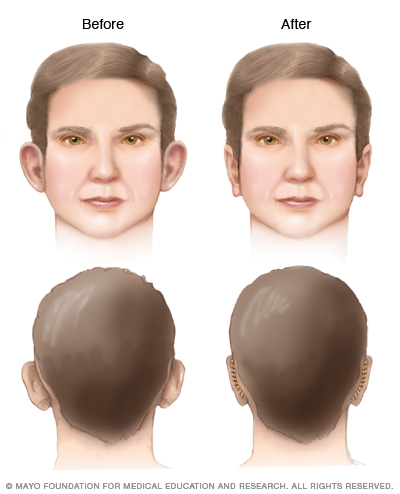 Fat grafting
This procedure creates a more youthful appearance and corrects imperfections, such as scars. Fat is removed from one part of your body, typically the abdomen, and injected to specific areas of your face through tiny incisions using special needles. Fat grafting is most commonly used in the lips, near the mouth, under the eyes and in the cheek areas.
Scar revision │ Facial trauma surgery
These procedures reduce facial scarring from burns, acne or trauma with the goal of restoring your appearance and self-confidence.