Our Locations
With locations across the Midwest, you have the ability to receive Mayo Clinic care close to home.
Need to make an appointment?
Plastic & Reconstructive Surgery
Breast Surgery Services in La Crosse
Modifying your breasts is a personal decision — one that you make for yourself. It shouldn't be influenced by social pressure or to fulfill someone else's image of how you should look. Whatever modification you choose to pursue, the Plastic & Reconstructive Surgery experts in La Crosse, Wisconsin, can help you achieve a more natural shape to your breast after a mastectomy, improve your breast shape or position as you age, and increase or decrease the fullness of your breasts.
These breast surgery services are available:
Breast augmentation
Breast enhancement surgery is a procedure to enhance or enlarge the breasts for a more aesthetic appearance. Implant placement is one of the most common plastic surgery procedures.
Options for breast implants include:
Saline — filled with sterile salt water
Varying amounts of saline can fill the implants, which then affect the shape, firmness and feel of the breast.
Silicone — filled with an elastic gel
The gel feels and moves much like natural breast tissue.
Breast lift (mastopexy)
Aging and childbirth can lead to sagging, drooping breasts. A breast lift can restore the youthful appearance of your breasts and correct drooping.
During a breast lift, excess skin is removed and breast tissue is reshaped to restore firmness and raise the breasts and nipples on the chest. Incisions can be made around the darker area surrounding the nipples — the areolae — downward to the breast creases and horizontally along the creases.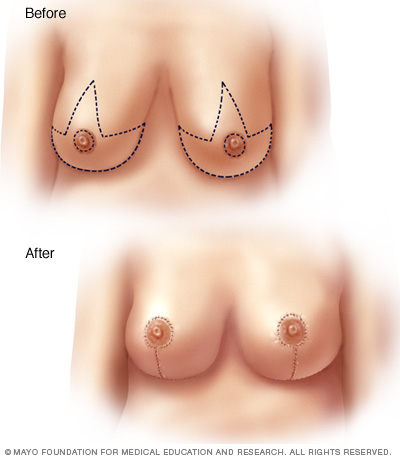 Breast reconstruction
We offer a variety of reconstructive options for restoring the breast or improving contour irregularities following surgery. If you've had a mastectomy, lumpectomy or radiation, we can give your breasts a more natural look so you can look and feel your best.
Breast reduction
Large, heavy breasts can result in chronic neck and shoulder pain, as well as skin irritation. Breast reduction surgery can be performed to reduce the size of the breasts and alleviate these symptoms.
During the surgery, an anchor-shaped incision is made to allow a surgeon to remove excess breast tissue, fat and skin, and raise the nipple and areola. After the excess tissue is removed, a surgeon brings the skin underneath the breast together with stitches.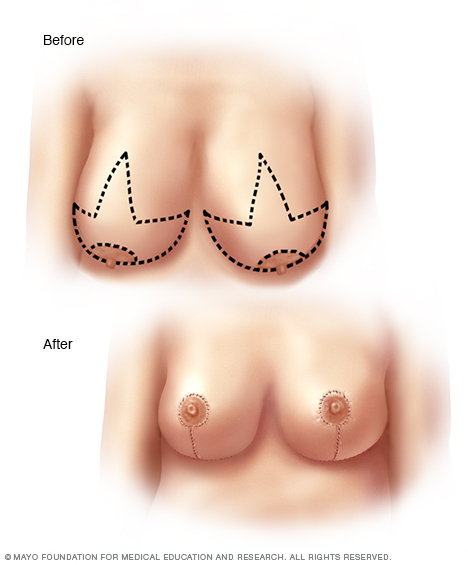 Male breast reduction
Gynecomastia is the swelling of breast tissue in boys or men caused by an imbalance of estrogen and testosterone. While it's not a serious problem, it can be difficult to cope with the condition.
Men and boys with gynecomastia sometimes have pain in the breasts and may feel embarrassed. Gynecomastia may go away on its own, but if it persists, intervention may be needed with medication or surgery.
Nipple reconstruction
A 3D tattoo can restore the appearance of missing nipples and areolas as a result of a mastectomy. A 3D tattoo uses pigments to replicate the areola on the reconstructed breast. It uses light and dark pigments to create a 3D illusion and make it appear there is an areola and nipple after they have been removed during surgery. The pigments are color matched to each patient with the goal of restoring the natural appearance of the breast.