Our Locations
With locations across the Midwest, you have the ability to receive Mayo Clinic care close to home.
Need to make an appointment?
Breast Cancer Care
Molecular Breast Imaging (MBI)
If you have dense breast tissue, you'll benefit from molecular breast imaging (MBI). La Crosse, Wisconsin, is the first and only location in the region to offer this screening tool developed at Mayo Clinic that is used to improve breast cancer detection in women with dense breast tissue.
What is molecular breast imaging?
Molecular breast imaging is a type of functional imaging, which means the pictures it creates show differences in the activity of the breast tissue. Tissue that contains cells that are rapidly growing and dividing, such as cancer cells, appear brighter than less active tissue.
During molecular breast imaging, a small amount of radioactive tracer is injected into a vein in your arm. The tracer attaches to breast cancer cells that can then be detected using a special camera that detects the radiation released by the tracer.
Why should I consider molecular breast imaging?
Molecular breast imaging may be used to screen for breast cancer in women with dense breast tissue. Breast tissue is composed of milk glands, milk ducts and supportive tissue (dense breast tissue) and fatty tissue. Women with dense breasts have more dense breast tissue than fatty tissue. Both dense breast tissue and cancers appear white on a mammogram, which may make breast cancer more difficult to detect in a woman with dense breasts. Studies show combining molecular breast imaging and a mammogram results in finding three times more breast cancers than a mammogram alone.
Molecular breast imaging may also help doctors evaluate a breast lump or unusual area detected on a mammogram. Your doctor may recommend molecular breast imaging if other imaging tests have been inconclusive.
Molecular breast imaging is generally covered by insurance (although co-pays and deductibles usually apply), but you should confirm this with your insurance company before proceeding with an MBI. Talk with your primary care provider to determine if MBI is right for you.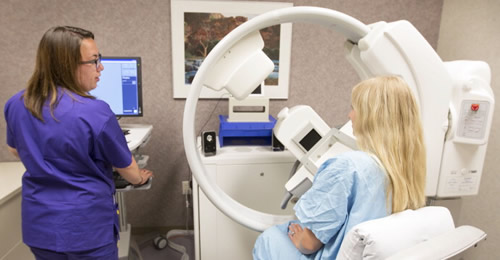 What can I expect during the test?
When you arrive for your MBI test, you will be asked to undress above the waist. You'll receive a gown to cover yourself until the test begins. You may also receive a blanket to keep your chest warm, as being warm and relaxed can improve the uptake of the tracer to your breast tissue.
To begin your MBI test, you'll receive an injection of the radioactive tracer into a vein in your arm. The tracer contains a substance that is quickly absorbed by fast growing cells, such as cancer cells. The tracer emits gamma rays that are detected by two small gamma cameras that are part of the molecular breast imaging system.
You'll be seated in a chair facing the molecular breast imaging system, which looks similar to a mammogram machine. You'll be asked to open or remove your gown and place one breast on the flat surface of a gamma camera in front of you. You may need to lean forward a little and pillows may be placed behind your back to make this more comfortable.
The flat surface of a second gamma camera will be lowered on top of your breast. The compression is light – just enough to hold your breast in place during the test – and shouldn't be painful or uncomfortable.
You will sit still for 10 minutes as the gamma camera records the activity of the tracer. Your breast will be repositioned for a second image and you'll be asked to sit still again for 10 minutes as the image is created.
If you're having both breasts imaged, your other breast will be positioned in the imaging machine and the process will be repeated. Two images are created of each breast and each image takes about 10 minutes. In total you'll be asked to sit still for 40 minutes, though you can get up and stretch between images. A television is available to watch during your test. Women with larger breasts may need additional images.