Need to make an appointment?
Breast Cancer Care
Mobile Services
The Mayo Clinic Health System Center for Breast Care in La Crosse, Wisconsin, uses advanced breast imaging tools including 3D digital mammography, also known as digital breast tomosynthesis (DBT).
Our breast imaging experts use a collection of complementary systems for better detection of breast cancer, including:
Molecular breast imaging
2D and 3D mammography for breast cancer screening and diagnostic work-up
High-resolution sonography
MRI
Stereotactic biopsy system for potential intervention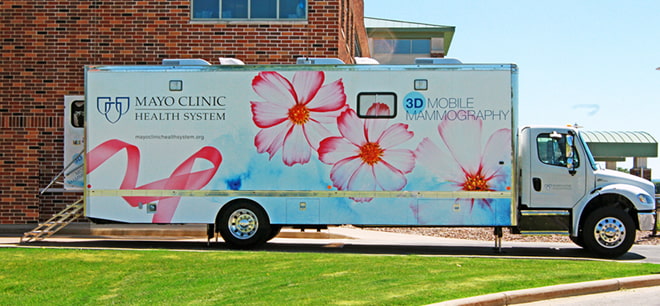 Screening services beyond La Crosse
Our mobile 3D mammography unit expands our reach and increase patient access to advanced screening services. The unit offers quality care and convenience to the communities we serve, with flexible and extended hours. The unit travels to a number of locations in western Wisconsin and southeast Minnesota providing screening services for women in a confidential manner, while at the same time offering Mayo Clinic care close to home.
This mobile screening resource, together with our breast imaging experts, other health care providers, educators and agencies, are interconnected and complement each other to help screen, educate and refer women for continued care and treatment when necessary.
Mayo Clinic recommends annual screening mammography beginning at age 40 for women at average risk of breast cancer, or at the recommendation of your primary care provider. Women with a family history of breast cancer or other risk factors for breast cancer require an individualized approach to screening.
The advantages of 3-D digital mammography include:
Improved imaging of dense breast tissue, which is common in younger women
Reduced recalls, also known as callbacks for additional views/imaging, for patients that have 3D imaging compared to patients who undergo conventional 2D mammography
Up to a 40% reduction of false-positive calls, minimizing patient anxiety and costs
Our goal is to build strong relationships with the patients and other health care providers we serve. Through these relationships, we will work together to meet the screening needs of many Wisconsin communities.