Need to make an appointment?
Emergency Medicine
Trauma Simulations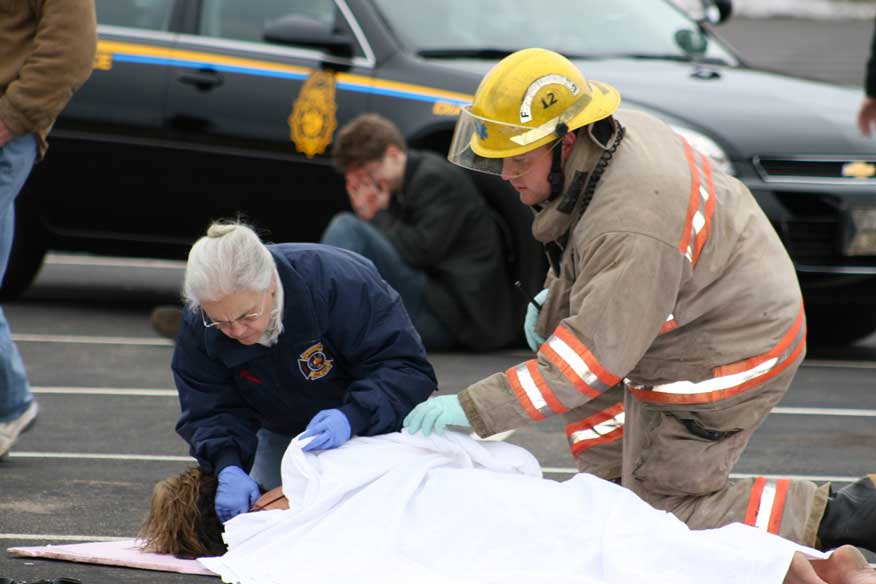 Trauma Simulations Impact Students
The scene of the accident looks horrific. A smashed car. Beer bottles. Bodies covered with blood. An ambulance. The coroner. A hearse.
Fortunately, this accident is only a simulation a visual lesson about drinking and driving for the high school students who surround the scene. The victims of the crash are their peers. The ambulance staff, rescue team and the funeral home personnel are really volunteering their time to hopefully prevent a scene like this from actually occurring.
The Trauma Center at Mayo Clinic Health System in Eau Claire has been coordinating simulations such as this one since 1997 at high schools throughout the Chippewa Valley. The goal of the event is to help prevent injuries and death in young people by showing them what can happen when they drink and drive, says Kim Strasburg, registered nurse and injury prevention coordinator at Mayo Clinic Health System in Eau Claire.
"Research says there is a two-week glow after an event like this when behavior does change," says Strasburg. "So we try to time our simulations close to high-risk periods, like prom and graduation."
In addition to Mayo Clinic Health System in Eau Claire, several area agencies and businesses participate in the simulations including the Eau Claire Police Department, Eau Claire Fire Department, Gold Cross Ambulance, Mayo One Eau Claire and Evergreen Funeral Home.
If seeing the scene isn't enough, students also learn about the legal charges for the intoxicated driver from a police officer, the intensive care and long-term health impacts from a health care provider, how the family of the dead person is notified from a police chaplain, and the decisions a family must make in planning a funeral from a funeral director.
An average of four presentations are held each spring at schools throughout the Chippewa Valley. Since it started in 1997, more than 11 schools have participated, and other schools conduct similar presentations on their own with Strasburg's help.
Does it really make an impact on the students? Judging by the hushed and somber crowd made up of hundreds of students, we think it does.