Enjoy your summer, pain-free.
Need to make an appointment?
Orthopedic Surgery
Orthopedic Surgery
Whether you are seeking care for bones, muscles, ligaments, or tendons, our team of experienced orthopedic specialists provide diagnosis and treatment options that can help you enjoy an active, pain-free life. Our highly-skilled orthopedics providers have specialized expertise in both surgical and non-surgical care. Providers also work hand in hand for a seamless patient experience from diagnosis to treatment to rehabilitation — so you can get back to doing what you love sooner.
Call us with questions or to schedule your appointment. No referral is necessary.
On-site video visits
Appointments are offered via on-site video visits, which reduce the need to travel far and enable patients to receive care close to home.
For an on-site video visit, patients arrive to the clinic and a nurse connects them with the specialist via video. The innovative technology uses a Bluetooth stethoscope, a USB otoscope and high definition cameras that can move and zoom in for a high-quality physical exam and personal conversation with the specialist.
Video appointments are currently offered at select locations in Wisconsin and Minnesota. Learn more about on-site video appointments.
Call us for more information or to schedule an appointment.
In certain cases, patients may be connected to services at other Mayo Clinic Health System locations for their follow-up care.
Locations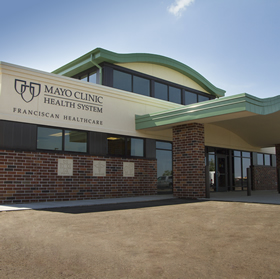 Clinic
895 S. Dettloff Drive, Arcadia, WI 54612
Hours:

Mon-Fri:

8:00 AM - 5:00 PM