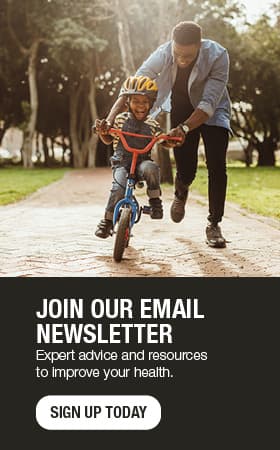 Surgery to correct scoliosis helps Pat Druckenmiller move again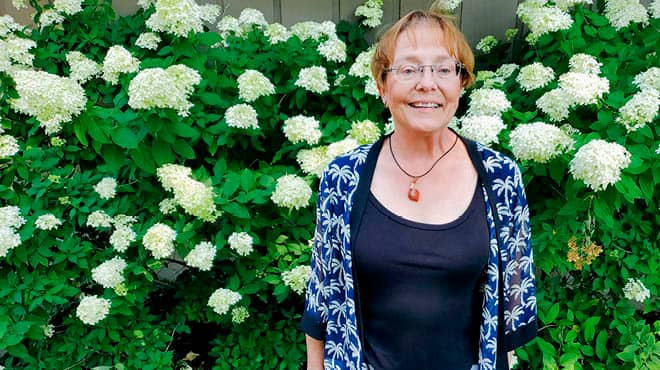 Pat Druckenmiller is a person who likes to keep moving, whether that means playing clarinet in a community band, teaching students at a tribal college, relocating her family to the other side of the world or simply taking a walk each day. She and her husband, Doug, have lived a life full of adventure, including living in multiple states, traveling the world extensively and living in Taiwan.
Throughout these adventures, movement has kept Pat fit and active. However, her ability to move slowed and nearly stopped in 2020 as arthritis and scoliosis in her spine caused significant pain and instability.
Pat began experiencing low back pain in 1997, and she was diagnosed with osteoarthritis in her spine. This is the most common form of arthritis, and it's often the cause of low back pain. Osteoarthritis is referred to as a wear-and-tear disease because it occurs when the cartilage that cushions the vertebrae in the spine gradually deteriorates.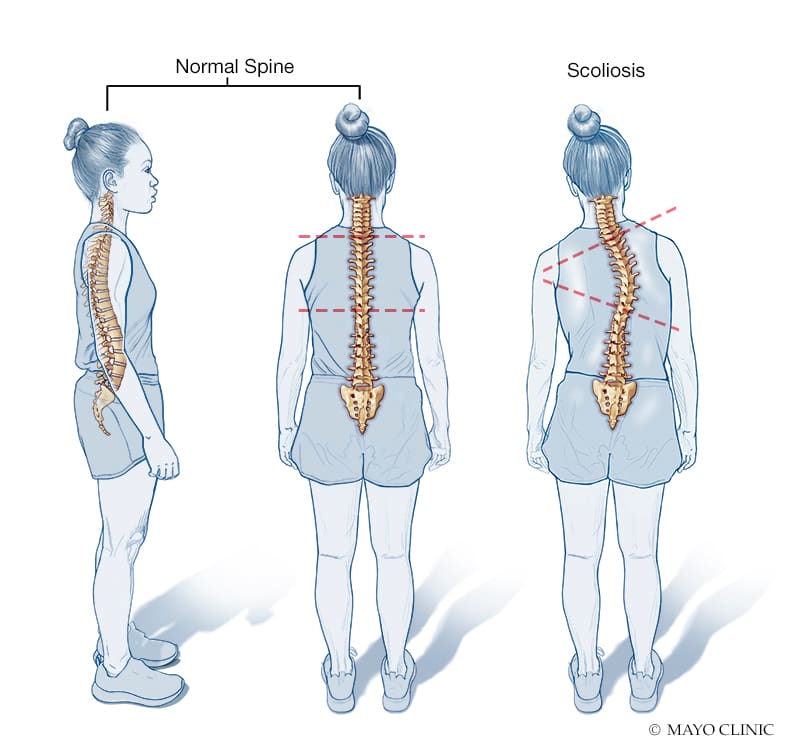 Pat had an increased risk of osteoarthritis because she developed scoliosis as a young child following a significant growth spurt. Scoliosis is a sideways curvature of the spine, and adults who had scoliosis as children, such as Pat, are more likely to have chronic back pain due to chronic inflammation and spinal tension.
"I made two decisions then: to keep moving and to delay surgery for as long as possible," says the 75-year-old retired English professor. "I already had arthritis in my knees and exercise kept the pain away, so I decided to do exercises to keep my back happy."
And exercise she did.
Pat regularly attended physical therapy sessions and walked 3 or more miles each day at home. For nearly 17 years, this routine helped keep her symptoms at bay and keep her moving.
That changed in 2014 when Pat started to experience more pain in her back and legs, and required additional treatments, including epidural steroid injections.
Pat and Doug moved to Wells, Minnesota, in 2018. She eventually transferred her care to Jason Dauffenbach, D.O., a pain medicine physician at Mayo Clinic Health System in Mankato.
"We continued with treatments for her low back pain and radicular leg pain," says Dr. Dauffenbach. "This included conventional epidural steroid injections, facet joint injections in the low back and soft tissue injections into her hips."
For two years, Pat continued with these treatments and her daily exercise routine, but over time, she and her care team noticed changes.
"I started to have some instability and difficulty walking. I needed to use two hiking sticks. The problem is that you can't carry anything with you," Pat says laughing.
However, that wasn't her biggest problem. "I was noticing that I was listing to my left pretty dramatically. At that point, it felt like the arthritis was winning."
Dr. Dauffenbach agreed. "She was having a regression of her physical abilities," he says. "With this recognition and understanding that her percutaneous injection therapies were not providing a satisfactory amount of relief, we determined that it was time to obtain further testing and get a surgical opinion."
Dr. Dauffenbach referred her to Anthony Burrows, M.D., a Mayo Clinic Health System neurosurgeon, who confirmed Pat's diagnosis and recommended surgery to remove spinal pressure and correct her scoliosis.
"She had lumbar scoliosis, which can affect about 5% of U.S. seniors," says Dr. Burrows. "The compression of her lumbar nerves and spinal alignment could only be corrected by surgery after all nonoperative treatments had been tried."
After avoiding surgery for 24 years, Pat found comfort in Dr. Burrows' approach and expertise. "I trusted him implicitly," she says. "He didn't overpromise. He actually underpromised. If he had said that I could run a 12½-minute mile after surgery, I wouldn't have believed it. He had a very good attitude, with a patient approach."
On May 10, Pat underwent a lumbar laminectomy and fusion surgery at Mayo Clinic Health System in Mankato.
"The laminectomy takes the pressure off the lumbar nerves. Then we stabilize the spine using a combination of screws and rods to hold it in place. Finally, a bone graft is placed along the side of the spine and in place of the intervertebral discs to allow the bone to grow together," says Dr. Burrows. "Ms. Druckenmiller had the additional benefit of a deformity correction, which places the spine back into better alignment to put less strain on the muscles and associated joints of the pelvis and hips."
Pat recalls that she wasn't nervous about the surgery and slept well the night before.
"What I really dreaded was the aftermath, but I was wrong," she says. "I am in really good physical shape, and my overall health is very good, so that really helped with recovery."
Dr. Burrows agrees. "While she has restrictions for the first three months, Ms. Druckenmiller was walking the day after surgery and doing light activity within a week," he says. "She was in excellent physical health and had good support at home. All of these (factors) helped her recover very well."
With her spinal scoliosis fixed, her list was corrected and her head better aligns with her spine.
"I was barely home from the hospital when my son commented how I was walking so much better and that now my head was on straight. I guess that's what a neurosurgeon can do," she teases.
Pat is completing physical therapy, and she and Doug are walking again at home, slowly but steadily improving their distance.
"I would like to get back to a mile and a half or 2 miles," she says. "It is good for my mental health and physical health. Plus, it helps keep my girlish figure."
While Pat is happy that she was able to delay surgery, she says she wants to encourage others in similar situations. "Don't be afraid of surgery when your time comes, but there is a lot you can do to improve your physical shape before the surgery."
When reflecting on her path, Pat says she considers herself lucky.
"I've always had exactly the right doctor, exercise, physical therapy at the right time. I think Mayo Clinic Health System in Mankato had exactly what I needed at that time. It couldn't have been better."