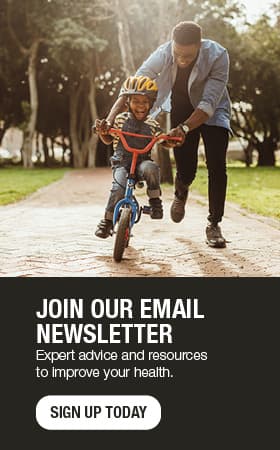 Student's determination inspires others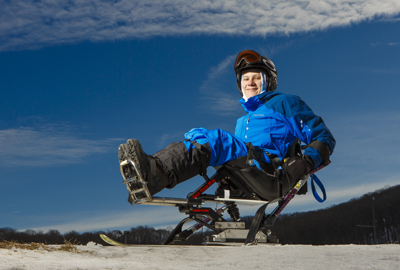 Ty Wiberg, a 13-year-old Chippewa Falls, Wis., native, bears more than his share of burdens in life.
The Chippewa Falls Middle School seventh-grader has undergone 16 surgeries in his young life, walks with braces and uses a wheelchair for distance. Ty has a birth defect called spina bifida, a spinal cord malformation. He also suffers from hydrocephalus, a buildup of fluid in the brain for which a tube-like shunt drains excess fluid, has limited sensation from the knees down, and battles bowel and bladder management issues.
Not that any of that is slowing him down.
Ty mono-skis, distance races with his wheelchair, scuba dives, plays wheelchair basketball, swims and will soon test for his black belt in karate. He also recently returned home from a week-long downhill ski camp in Colorado for kids with disabilities and injured veterans.
"I think his tenacity and his ability to just keep going and keep a positive attitude when things are rough is pretty amazing," says Michele Wiberg, Ty's mother.
His father, Al, agrees.
"That's the biggest thing that I see with Ty, too, is he always wants to try new things. 'If everyone else can do it, why can't I?'" Al says.
Spina bifida occurs in utero when the neural tube fails to properly close — potentially damaging the spinal cord and causing a wide range of physical and cognitive disabilities.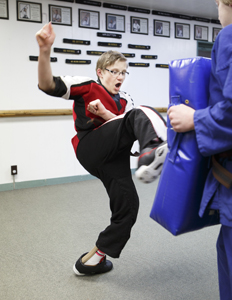 Ty's parents learned they were going to have a son with spina bifida during a routine ultrasound and were warned he may never walk.
"The news was pretty devastating for us, because you don't ever want anything to be wrong with your child," Michele recalls. "But something deep down inside as a mom said 'No, he'll be able to walk.'"
In addition to all Ty's extracurricular activities — "I really like doing stuff outdoors," he says — he also speaks publicly about living with limitations.
"I talk about going above and beyond," Ty says. "We all have limitations, and if there are things that we don't think we can do, we've just got to put our minds to it and find different ways of doing it."
Jane Byrd, M.D., is Ty's Pediatric & Adolescent Medicine physician at Mayo Clinic Health System in Chippewa Falls. She's known Ty since birth and says he's "an inspiration to everybody, whether or not he had spina bifida."
Spina bifida can often impact patients' independence and activity, but Dr. Byrd notes that Ty's disability certainly isn't limiting him.
"He's probably more active than a number of children I have who have no underlying disabilities," she says.
Ty receives his general medical care locally and specialized care from the Spina Bifida Clinic at Mayo Clinic in Rochester, Minn., an integrated clinic where patients can see all the specialists relevant for their care in one place and on one day. This typically includes Pediatric Physical Medicine and Rehabilitation; Orthopedic Surgery; Neurology, Neurosurgery, Physical Therapy, Occupational Therapy; Social Services, Urology and dietitians.
Sherilyn Driscoll, M.D., Ty's Pediatric Physical Medicine and Rehabilitation physician, says she and her Mayo Clinic colleagues communicate regularly, ensuring a coordinated, cohesive care plan is in place. The communication and coordination extends to Ty's doctors back home.
"We love Dr. Byrd, and the collaboration between Mayo Clinic Health System, and the Spina Bifida Clinic in Rochester is just amazing," Michele adds. "I wouldn't want my son to go anywhere else."
Note: Jane Byrd, M.D., retired from medical practice in 2022. Family Medicine and Pediatric providers are available to care for children of all ages.