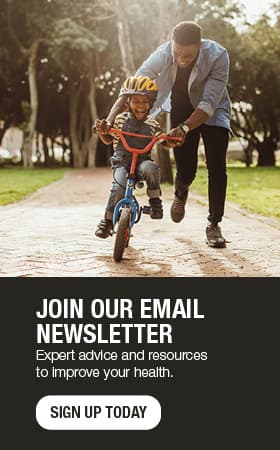 Skier keeps coming back after knee surgeries
It's hard to keep Marva Sahs down. Marva, 69, of rural Spooner, Wisconsin, recently completed her 30th American Birkebeiner, a 50-km cross-country ski race held each winter between Cable and Hayward, Wisconsin. This would be impressive under any conditions, but Marva has twice come back from knee surgery to take on the challenge.
"If you want to complain, winter in Wisconsin can be pretty hard," Marva says. "If you want to get out and do things, it's pretty fun. I could never just sit inside." Fun, says Marva, involves year-round outdoor activity on skis in the winter and a bike in the summer.
Marva experienced her first knee injury in 2007, when her enthusiastic dog crashed into her right knee, causing a meniscus tear and damage to the medial collateral ligament. That meant she had to cross the 2008 Birkebeiner off her list. But she wasn't ready to give up on skiing. Marva went to see orthopedic surgeon T. Andrew Israel, M.D., at Mayo Clinic Health System in Eau Claire.
"Marva was not only a great a patient, she was committed to her rehab after surgery," Dr. Israel says. "She put in all the work needed to continue at that level."
A SCARY SITUATION
Marva was back on her skis by March 2008 and competed in the 2009 Birkebeiner. A few years later, she experienced another injury — this one a little more serious. While skiing far back in the woods on a cold day in 2012, Marva says she found herself in a scary situation.
"I was skiing along, it was a beautiful day and there were sparkling diamonds in the snow," Marva says. "I was not paying attention to where I was going and fell forward going down a hill. My left leg helicoptered with that extra leverage of a ski on it." When she tried to stand, her left leg would not support her weight.
"I was a mile and a half back in the woods," Marva says. "It was 12 to 15 degrees out. I was wearing skinny clothes for skiing, not for the cold, and I was sweaty. My mittens were wet, and I couldn't stand up. I was thinking I needed to figure out how to get out of here."
Marva was wearing a knee brace on her right knee, which she switched to her left. It gave her enough support to shuffle out to the road, where she encountered another skier.
"He asked if I had broken a pole," Marva says. "I told him I thought I had broken my knee."
After getting a ride to her car, Marva managed to drive herself home. The next day, she knew just who to call: Dr. Israel.
When she returned to the Sports Medicine Department, Marva says she said, "Hi, everyone. It's me again." This time, she had suffered damage to her ACL and meniscus, and had a hairline fracture at the top of the tibia.
Marva says despite her harrowing adventure in the frozen woods, she still had her sights set on a return to skiing.
"I never thought that I wouldn't get back out there," Marva says. "And Dr. Israel was right there with me. He said 'I'll fix that. I'll get you back.'"
In order to return to the skate style of skiing Marva prefers for racing, she needed to have her ACL repaired.
"For any activities that include cutting and pivoting motions, athletes need their ACL to be able to trust their knee," Dr. Israel says. "My goal was to help Marva get back to what she liked to do."
Dr. Israel says he knew Marva's goal was to be back in the Birkebeiner within a year. He says it is good to have a goal and to set realistic expectations. Then, athletes need to put in the effort in rehab in order to have a good result.
UNSTOPPABLE AMBITION
Marva says she was motivated to follow her rehab routine with physical therapist Craig Kann.
"Craig was amazing," says Marva. "He taught me when to push through the pain and when not to. You've got to do what you're told. If you don't, you're sabotaging yourself."
While Marva says she is a little more cautious on the trails, she is back to skiing regularly. She made it to the 2013 Birkebeiner and completed her 30th Birkebeiner in 2018. She hopes others might be inspired by her story to get outdoors and stay active.
Dr. Israel says people should not let a physical setback prevent them from doing something they enjoy.
"We work to keep people doing the things they like to do recreationally," Dr. Israel says. "Whether you're a high school, competitive or recreational athlete, or you play lunchtime basketball three times a week, we want to get you back to doing what you like to do at a high level."
As for Marva, she says she is happy she had Dr. Israel and his team to get her back into action.
"I'm very happy with the result," Marva says. "Dr. Israel really does exceptional work. The team is really upbeat and professional."