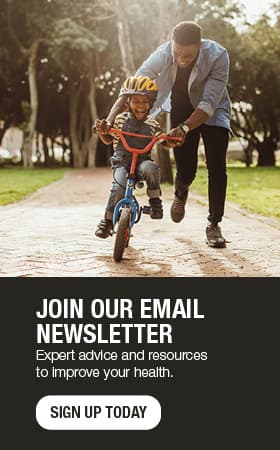 Receiving care for COVID-19 while pregnant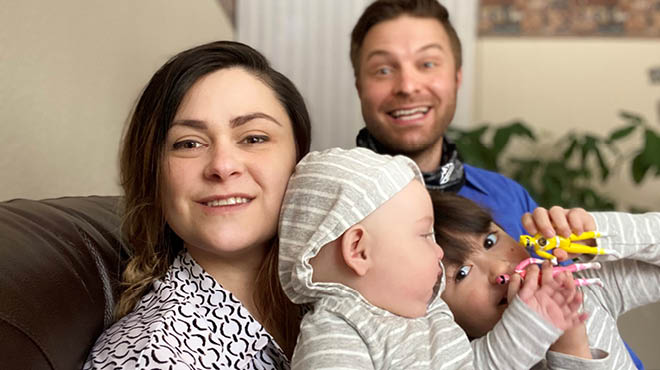 Last September, Kim and Lloyd Harter of Fairchild, Wisconsin, along with their daughter Eleanor Jacobo, tested positive for COVID-19. While they recovered, they also waited for a special new addition to their family: Kim was eight months pregnant.
With pregnancy being a risk factor for complications due to COVID-19, a member of the COVID-19 Front-Line Care Team at Mayo Clinic in Rochester, Minnesota, called Kim to discuss her risks, as well as provide information about COVID-19, how to isolate, how close contacts should quarantine, what symptoms to monitor and when to seek care for worsening symptoms.
She also met with Anthony Furlano, D.O., her Family Medicine physician at Mayo Clinic Health System in Eau Claire, Wisconsin, through a video visit. He reiterated the same messages, which reassured Kim that her care was in good hands.
COVID-19 recovery
Kim, then 31, experienced sneezing, body aches and extreme fatigue. "It came in waves. I'd feel good one day, then try to do a few things. Then it would hit me twice as hard the next day."
Eleanor was sick for just one day and was quickly back to being an active 4-year-old, which made it challenging at times for her parents. "My husband and I basically took turns feeling sick as we took care of her and recovered," says Kim.
Kim started to feel better after about seven days, although her sense of taste and smell took about a month to come back.
Care team includes resident physician
Throughout her pregnancy, Kim was able to receive prenatal care with a care team, including two physicians. In addition to seeing family medicine patients, Dr. Furlano is part of the faculty for the Mayo Clinic Family Medicine Residency program in Eau Claire. There, resident physicians interested in caring for prenatal patients also can be part of care teams, supporting pregnant women and their families. Mollie Meagher, D.O., a second-year resident physician, also was involved with Kim's care from early on.
"Often my prenatal appointments started off with Dr. Meagher and ended with Dr. Furlano coming in to summarize the visit," explains Kim. "I enjoyed being part of a learning process. Dr. Meagher was confident, and at times, I forgot she was a resident."
"It was special to see the resident's point of view. Seeing her excitement was very exciting for me, as well," says Kim.
For Kim, another benefit to having care through the residency program was to have both physicians with her during delivery. She had a difficult first pregnancy. "This time, with more attention, I felt safer. They were laughing with me and very supportive. They were a good cheer team."
"During delivery, I had a post-traumatic stress disorder attack, and they, along with my husband, calmed me down," said Kim. "Things (delivery) then progressed after that. They made me feel I had all the control."
Care for the whole family
Now Drs. Furlano and Meagher care for everyone in the Harter family. "I think it's good that they know all of us and our personalities. It is more personal," adds Kim. "Having knowledgeable, compassionate and caring doctors puts me at ease. It is nice having that trust in my doctors."
Read more about pregnancy, COVID-19 and newborns: