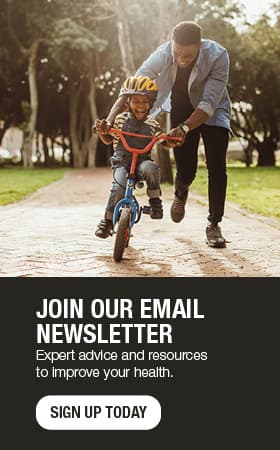 Rainbow baby brings joy after long journey to parenthood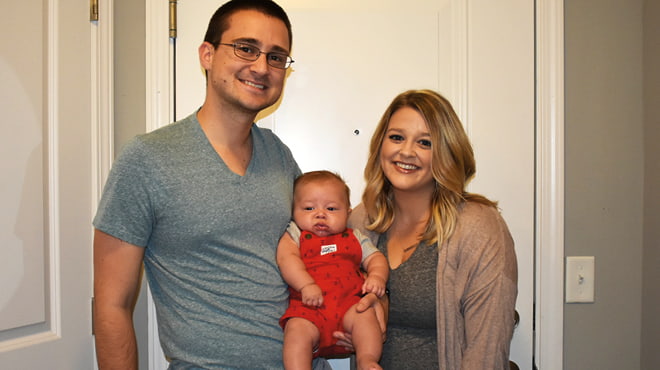 Stephanie and Nick Beaudrie, D.O., never gave up hope that they would have a healthy baby. The couple, who recently moved from Eleva, Wisconsin, to Indianapolis experienced two miscarriages before Stephanie carried their son, Andrew, almost to full term. The day before her 36-week appointment, Stephanie began to worry.
"I wasn't feeling the baby move," Stephanie says. The exam and ultrasound revealed no heartbeat. Stephanie had to call Nick, an internal medicine resident, to deliver the news. Twenty hours later, Andrew, was stillborn. The Beaudries both say they felt a complex rush of emotions that most people may never understand. Though they were heartbroken at their loss, they found comfort in being able to see and hold their son.
"It was emotionally hard, as well as physically," Stephanie says of the labor and birth. "There was great sadness, but there was also a little bit of joy mixed into that."
Nick says he experienced similar emotions.
"I was elated but destroyed at the same time," Nick says. "My world seemed like it was crashing down."
Stephanie, Nick and most of their family were able to see Andrew, spending eight hours with their brown-haired, blue-eyed boy. But they would have liked more time.
That's when they learned about cooling cots. The cot is a cooling system for stillborn babies that is placed in a bassinet, bed or crib to allow families more time with their baby to help them cope with their loss.
"I wanted to help other parents who had to go through this," Stephanie says.
Working with Halos of the St. Croix Valley — a nonprofit foundation that helps families after the loss of a child — the Beaudries raised $3,800 to donate a cooling cot to the Family Birth Center at Mayo Clinic Health System in Eau Claire, Wisconsin.
When they made the donation, Stephanie was just days away from another due date.
High hopes
"We were very anxious," Stephanie says. "I was thinking, 'We're so close!'"
Because of her history, Stephanie's pregnancy called for special care. She went to see a high-risk specialist at Mayo Clinic's Rochester campus. Dr. Davies provided guidelines for Stephanie's care team in Eau Claire, including an early delivery between 37 and 39 weeks.
Having a high-risk pregnancy meant more frequent examinations, especially when Stephanie was feeling anxious.
"Because of the high-risk nature of Stephanie's case, I was willing to do whatever tests we needed to reassure her, and myself, that everything was OK," says Leonard Ezenagu, M.D., Stephanie's obstetrician in Eau Claire. "I was just as excited about her having a good outcome as she was."
Bundle of joy
The anticipation was nearly overwhelming for Stephanie and Nick. They worried every minute until their son, Owen, was delivered by cesarean section. Babies born after such a loss are often called "rainbow babies" because, like a rainbow after a storm, they bring feelings of happiness and relief after a time of difficulty. The joy of his healthy birth and Owen's resemblance to his brother, Andrew, brought out a lot of emotions for the new parents.
"I don't think I stopped crying for an hour or two," Stephanie says.
"To have him in our arms and OK was a feeling I can't describe," says Nick.
Healing by sharing
The Beaudries are happy to talk about Andrew and honor his memory. They hope sharing their experience can help and inspire others in similar situations. Stephanie and Nick say that talking to other people who had experienced loss was a big help to them, and parents should not be afraid to talk about their baby.
"Reach out to your spouse, family or friends," says Nick. "There is a big stigma about men not showing emotion; But if you hide from this, it can break you down inside."
Dr. Ezenagu says expectant parents need to know that having a negative outcome from a pregnancy does not mean it will happen again.
"I will always have their son, Andrew, and the entire family in my thoughts and prayers," says Dr. Ezenagu. "I am proud of how Stephanie handled a very difficult situation. She was able to continue with resilience and have a good outcome. She deserves all the credit."
Stephanie says she and Nick are thankful for the support they received from their families and health care team.
"We could not have asked for better nurses and hospital staff during our two years working with them while trying to get our baby," Stephanie says. "They all knew who we were and cheered us on. Honestly, the entire OB-GYN Department felt like family by the end of our journey with them."
Now, with that part of the journey behind them, the Beaudries say they are happily adjusting to the chaotic life of new parents with baby Owen, who loves to smile, babble and play.
"We're getting this baby thing down — kind of," Stephanie says with a laugh.
Learn more about miscarriage: