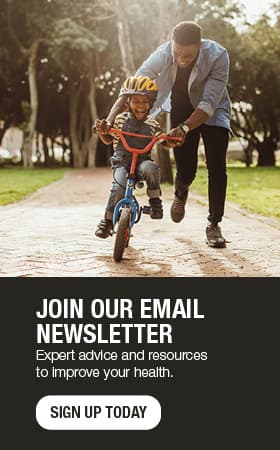 Lung cancer detected with early screening
Bill McWhite was vacationing along the Texas Gulf Coast — a time a person would traditionally be relaxing — when his body let him do anything but unwind. Instead, the 69-year-old Hayward, Wisconsin, man experienced a flare up of his chronic obstructive pulmonary disease (COPD) and found himself in the local hospital.
"I had congestion in my chest and was having problems breathing," says McWhite, a pack-a-day smoker of 55 years. "They gave me a couple medications, and within two hours, everything was fine."
That was McWhite's motivation to quit smoking and seek care with a lung specialist.
Once back in Wisconsin, McWhite followed up with Adel Zurob, M.D., a pulmonologist at Mayo Clinic Health System in Eau Claire, who suggested that he undergo a new lung cancer screening the health system began offering in February 2015.
The Mayo Clinic Lung Screening Program begins with a consult with a nurse practitioner to discuss risk factors and a review of the patient's smoking history to determine whether they meet program criteria. If the patient and nurse practitioner opt to proceed, a low-dose CT scan is scheduled to check for early signs of cancer — typically before symptoms present and when the disease is most curable.
"The whole idea of screening is to catch things early, similar to what we do with mammograms," says Dr. Zurob.
Depending on what the results show, patients may be advised to follow up in a year or go on to meet with a pulmonologist to discuss treatment options. McWhite's exam revealed a small, cancerous lesion in an isolated area on his right upper lung. He had a positron emission tomography (PET) scan that showed no spread of cancer outside the lung so his doctors advised surgery, which McWhite underwent in June 2015.
Thomas Carmody, M.D., a cardiovascular surgeon at Mayo Clinic Health System in Eau Claire, performed McWhite's surgery. In addition to removing the cancerous area, Dr. Carmody checked for signs of cancer in chest lymph nodes, which came back clean.
Dr. Carmody, who often works with Dr. Zurob when the screenings identify potential surgical candidates, says McWhite's surgery went well and expects "a very high likelihood of cure."
"It hadn't metastasized to other areas, which is real good news," recounts McWhite. "They pretty much got it all. I got the best outcome you could ask for."
Lung screenings are for patients 55 to 80 years old who have a 30-pack-year history of smoking, meaning a pack a day for 30 years or two packs a day for 15 years, and are current smokers or had quit within the last 15 years.
The program stems from a national lung screening trial in which 53,000 patients — all current or former heavy smokers — underwent either a low-dose CT scan or standard chest X-ray every year for three years. The findings showed that patients who received the CT scans had a 20 percent lower risk of dying from lung cancer than those who received chest X-rays.
"If we were to take the recommendations that we get out of this trial and apply them nationwide to all those that meet the criteria, then we can avoid about 20,000 deaths every year," says Dr. Zurob. According to the Centers for Disease Control and Prevention, approximately 157,000 people in the United States die from lung cancer each year. This is more than any other type of cancer.
Dr. Zurob is quick to emphasize, "The real key to decreasing deaths from lung cancer is to never start smoking and quit as early as possible if you are a smoker. Screening alone is not the answer."
About 150 patients have completed the lung screening at Mayo Clinic Health System in Eau Claire since the program started, with five of the scans identifying lung cancer.
"Out of those five, Mr. McWhite is exactly the person we're trying to identify — somebody who had a very early stage lung cancer with potential to cure with surgery. That's really what we're after," says Dr. Zurob.
McWhite is grateful to his medical team at Mayo Clinic Health System for so swiftly identifying his cancer."It was a nervous situation for myself and my family," he says. "The outcome was excellent, and that's the whole idea of this early detection, so I'm extremely happy. That early testing probably saved my life."