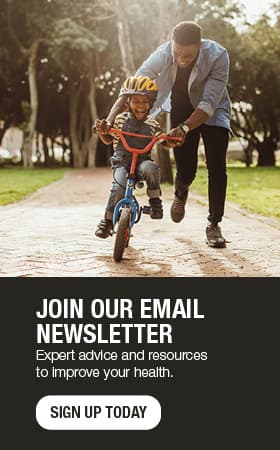 Like many women, she didn't see it coming
In December 2006, a week before turning 40 years old, Michelle Bygd went in for her annual women's exam at Mayo Clinic Health System in Red Wing. Her doctor convinced her to schedule her first mammogram, routine for women turning 40.
A non-smoker with very little family history of breast cancer, Bygd felt very confident going into her appointment. The exam was pretty painless, and she felt happy to check it off of her "to do" list.
The next day, a nurse called and asked that Bygd have a second, more extensive mammogram to get a closer look. A few days later, the nurse called again. This time is was to schedule a biopsy. A small mass was discovered during the exam. Still not completely convinced that anything was really wrong, Bygd went in for the biopsy.
Bygd's surgeon then delivered the devastating news – it was invasive ductal breast cancer. She felt numb and her mind strayed to her nine-year-old daughter, Alice. "The only thing I could think of at that moment in time was, 'now my daughter has a history,'" says Bygd. She was told the cancer was in its early stages. Fortunately, the cancer was caught early thanks to the mammogram. Bygd decided to have a lumpectomy where only the cancer or unusual breast tissue is removed, followed by six weeks of radiation at Mayo Clinic in Rochester.
While Bygd had radiation treatments, her mother and best friend took care of her daughter. Together they had a number of "grown-up" conversations about cancer and dying. But Bygd never lost sight on her daughter's future. With the help of her family and friends, Bygd was still able to enroll her in extra-curricular activities in Red Wing. "My friends, whom I call my Mafia family, are truly amazing. They treated Alice like one of their own and were there to support me through this journey," says Bygd.
Time to celebrate
Following her six weeks of radiation, Bygd met with C. Victoria Thomas, M.D., an oncologist at Mayo Clinic Health System in Red Wing, and received great news. Dr. Thomas was certain that all of the cancer had been removed during surgery and that the radiation treatments were a success in acting as a precautionary defense against any cancerous cells that might have been missed. The body scan also showed that the cancer had not spread to any lymph nodes.
In celebration, Bygd, Alice and Bygd's mother decided to forge ahead with their scheduled travel plans to New York. Even though Bygd was very fatigued and nauseous throughout the trip, she put on a smile and made memories to last a lifetime.
As much as Bygd and her daughter have overcome together, they are preparing for the next phase in their lives. Alice will graduate from high school next spring and go to college. "I couldn't be more proud of the young lady she has become. No child should have to take care of a parent at the age of nine, but she did and our relationship is stronger because of it," says Bygd.