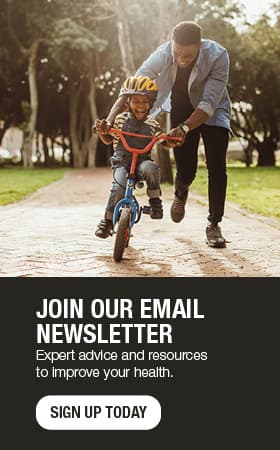 Kidney stone derails Carollyn Gehrke's holiday break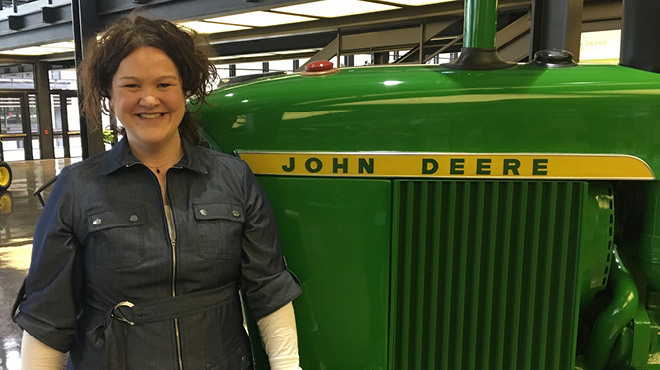 The days between Christmas and New Year's Day are some of Carollyn Gehrke's favorite of the year. Her employer, Deere & Company, shuts down during that time, and she enjoys this special time with family and friends. However, December 2019 was unlike any previous shutdown period.
"I was in a lot of pain and super uncomfortable," recalls the 46-year-old Davenport, Iowa, resident. "I didn't attend any Christmas or New Year's parties. I just stayed home under a heating blanket."
The reason for her pain was a kidney stone, which is a hard deposit made of minerals and salt inside the kidneys. Kidney stones can cause severe pain on the side and back when they are passing. Unfortunately, they are common, with about 10% of adults afflicted at some point in their lives. The associated pain and discomfort lead to about 1.5 million emergency department visits each year
In early December, Carollyn began to experience pain, and she made an appointment with her local health care team. A CT scan revealed a 1-centimeter stone that could not pass on its own. The local team placed a ureteral stent to help drain urine from her kidney and scheduled a stone removal procedure after the holidays, five weeks later.
Seeking a second option
Carollyn's pain and discomfort worsened, and she decided it was time for a second opinion.
"My mother said, 'Just go to Mayo,'" says Carollyn. "I told her it was too far away. But then I talked with my aunt who works at Mayo in La Crosse, and I decided to make the call."
Carollyn connected with a nurse in the Urology Department at Mayo Clinic Health System ― Franciscan Healthcare in La Crosse, Wisconsin.
"She asked a lot of questions about what type of pain I had and how long it had been going on. Also, (she asked) about CT scans, blood work and any medical records that I could access," says Carollyn. "She was very empathetic and said she would try to get me in quickly. She gave me a lot of hope."
After reviewing Carollyn's medical records, the Urology team in La Crosse had good news for her. They had an appointment available three days later, on Dec. 30, and a Scott Pate, M.D., a surgeon, was available, if necessary.
"My husband (Tony Kingsley) and I discussed this option for two hours," says Carollyn. "We weighed the options. Could I even make the trip, and what happens if they can't do anything once I get there?"
Ultimately, they decided to make the 3½-hour drive from Davenport to La Crosse armed with pain medication and a heated blanket to control the pain.
Diagnosis and surgical option
A clinical exam on Dec. 30 confirmed Carollyn's kidney stones, and the staff explained a surgical procedure was the best option given her significant discomfort.
"Carollyn had calcium oxalate stones, which are the most common type of stone," says Dr. Pate. "We recommended intervention because of her significant pain and the large size of the stone of 1 centimeter. It was very unlikely to pass on its own. If stones are not treated and do not pass within several weeks, long-term kidney damage can result."
This appointment marked the first time that Carollyn felt fully informed about what was going on with her body and what was causing the significant pain.
"I got more information during this visit than I had in the past," says Carollyn. "Dr. Pate described what was happening, the procedure, calmed my husband and provided a lot of confidence in the overall surgery itself. I was so happy something was going to happen."
After her clinic appointment, a nurse walked Carollyn and Tony to the Surgery Center, and helped them get checked in.
"I joked with the nurse that I needed some 'vein champagne' to help me be comfortable," Carollyn says with a laugh.
Once in the operating room, Dr. Pate performed an ureteroscopy with laser lithotripsy to remove Carollyn's kidney stones.
"During this procedure, the patient is either asleep or has a spinal anesthetic, and we place a tiny camera into the ureter and kidney to the level the stone," says Dr. Pate. "Then we use the laser to break it up into dust and small pieces. The small pieces are removed with a small basket. Carollyn did very well after her surgery."
For Carollyn, the pain relief was instant, and she was able to make the 3½-hour trip home that evening.
"I felt relief as soon as I woke up," she says. "We drove into a snowstorm on our way home. Normally, I would be anxious about that, but I felt very good."
During Carollyn's surgery, Dr. Pate also placed a urinary stent to ensure adequate drainage of her kidney. Because she lives far from the clinic, Carollyn received instructions on how to safely remove the stent at home after a few days. Soon she was feeling back to normal and virtually pain-free.
Kidney stone prevention
As with other health conditions, kidney stone prevention is preferred over treatment. That's why Dr. Pate recommended ways Carollyn could prevent future stones from forming at her follow-up appointment a few weeks later.
"Our ultimate goal is to prevent future stones, so we complete a full metabolic analysis after stone removal," says Dr. Pate. "Carollyn was very knowledgeable, with a solid understanding of medical care, and (she was) personable. She was very receptive to my recommendations."
Based on Carollyn's test results, Dr. Pate's recommendations included increasing the amount of water she drinks daily and a medication. In addition, Dr. Pate gave Carollyn information about her health, helping her manage her health in the future.
"The materials and guidance I received from Dr. Pate helped me be a more informed and efficient patient," says Carollyn. "Being well-informed, I am able to now make better decisions regarding how to be proactive with follow-ups."
The experience also gave Carollyn a new appreciation for what she calls a standard of care.
"The way the team describes things and provides information is amazing," she says. "It feels good to trust your health in a facility that has a great standard of care. I didn't appreciate that until I received it at Mayo."