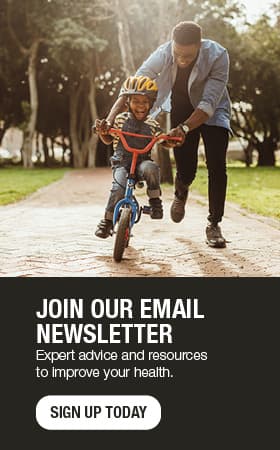 Joint problems erased with orthopedic surgery
What comes to mind when you think about the most physically demanding jobs? Professional athlete? Farmer? Park ranger? Product engineer? The last one might seem out of place but, believe it or not, some engineers spend all day on their feet, commonly walking a 5k or more during one shift. However, engineers usually aren't provided with a masseuse or yoga instructor, so pounding the pavement for 50 hours per week adds up to serious stress on the joints over time.
Robert Bishop, 64, is a product engineer in Faribault, Minnesota, and knows firsthand the damage extended daily walking at work can do. Robert has worked as an engineer throughout the country, and the daily treks to check different workstations across the plant started catching up with him.
HIGH MILEAGE
"I usually walk two to four miles per day at my job," says Robert. "I started to have some joint pain, and I just thought something was out of place. But when I went to the chiropractor, he told me I might have something going on with my hip."
Robert then saw Travis Roethler, a physician assistant in Family Medicine at Mayo Clinic Health System in Faribault, Minnesota, who recommended an X-ray and pointed out that both of Robert's hips were in bad shape, with the right being the worst. Travis referred Robert to an orthopedic surgeon, who told Robert that if he got to the point when conservative care, medications and injections were not working anymore to alleviate the pain, he should come in to discuss surgery.
"In the meantime, lots of people were telling me about their orthopedic surgeries and saying they wish they had done it sooner," Robert explains.
After the diagnosis, he traveled to Alaska to visit his sister. Although Robert received a cortisone shot in his hip before the trip, he says it didn't help and he couldn't do the things he wanted, such as hike or fish.
"I was walking with a limp," he says. "And walking like that started blowing out my knee, as well."
Robert and his family took another trip over the holidays to visit his children in Virginia. Once again, his lack of mobility kept him from doing the things he enjoys. He loves skiing, but he was unable to do it on that trip.
"When we came back from vacation, I made the decision to have the surgery," he says.
NEVER LOOK BACK
In February, after dealing with joint complications for nearly a year, Robert underwent a total replacement of his right hip, and the ball and socket of his femur and pelvis were replaced with prosthetic implants. He quickly began the road back to mobility.
"The surgery went fine, and the providers were wonderful," he says. "The care team had me up and walking the afternoon of the surgery, and I was discharged around noon the next day. I used a walker for one day, a cane for several days and was shoveling snow a few days after that."
Robert says the most trouble he had during recovery was putting on his socks and shoes, as the surgeon had warned him about bending certain ways and popping out the new hip joint. Not only are things back to normal now, it's almost as if he never had joint problems.
"During recovery, I went to physical therapy a few times and exercised at the recreation center where my wife works," he says. "I was back to work on March 4, and it's like the joint problems and surgery never happened."
Although Robert was prescribed exercises to complete after surgery, he says he moves around so much for work that he gets plenty of exercise.
"I will go back to enjoying walking the dogs, riding my bike, and this coming winter, I will be doing cross-country and downhill skiing," says Robert.