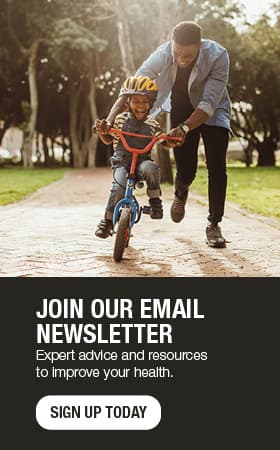 Hope for growing a family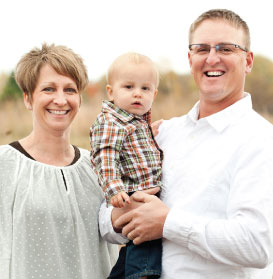 Stacy Simon wasn't sure she'd ever get pregnant.
Simon and her husband, Travis, had been trying to get pregnant on their own for two years before they sought medical help. After another three years of unsuccessful fertility treatments, they started seeing Fadi Yahya, M.D., obstetrician/gynecologist in Albert Lea, in July 2011.
"Stacy had unexplained infertility, which can sometimes mean the treatment is more challenging because we don't find a cause," says Dr. Yahya, who regularly provides infertility testing and treatment to his patients.
"We perform complete evaluation for all couples who present with infertility," says Dr. Yahya.
Hitting it off
"I absolutely loved him right away," says Simon. "He was very positive and if one treatment wasn't working, he was always looking at trying something else."
Dr. Yahya says he has reason to be positive: He's not giving false hope.
"We have a very good success rate, especially with patients who follow and complete their treatments," he says. "We use evidence-based treatments with known success rates."
After a few rounds of intrauterine insemination, shots to induce ovulation and other treatments, Simon was finally pregnant in November 2011.
"We were thrilled," says Simon. "It was six years' worth of agonizing struggle, and Dr. Yahya helped us finally get there. Without him and the positive, caring nursing staff at Albert Lea, it would have been hard to continue on the journey."
Parker Brandt Simon was born on Aug. 1, 2012, after what Simon calls a "perfect pregnancy."
"He's such a happy little guy," says Simon. "He makes me smile every day. We're so blessed to have him."
Third time a charm — twice
More recently, another Albert Lea couple had similar success with Dr. Yahya.
Amy and Jay Waddings' firstborn, Kayla, is 3 years old this month. After working with Dr. Yahya last year, they're eagerly expecting another baby in February.
"After a few tests, we finally got pregnant on our third round of intrauterine insemination," says Amy Wadding. "It was the same with Kayla, too — we were pregnant with her after three rounds of insemination. I guess for us, the third time is the charm!"
Wadding has praise for Dr. Yahya, too.
"Every time we see him, Dr. Yahya goes above and beyond," she says. "The entire team is so detailed, and they share records back and forth with different doctors. It's so convenient to have this service right in Albert Lea where we live."
Dr. Yahya says his rewards are all in a day's work. Usually, he's also able to deliver the babies conceived using infertility treatments.
"It's always such a pleasure working with women like Stacy and Amy — and especially seeing them hold their newborns for the first time," he says.