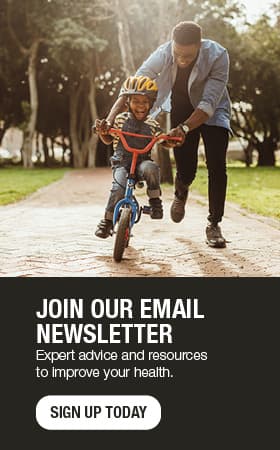 Hip replacements mean Mara Olson can walk pain-free again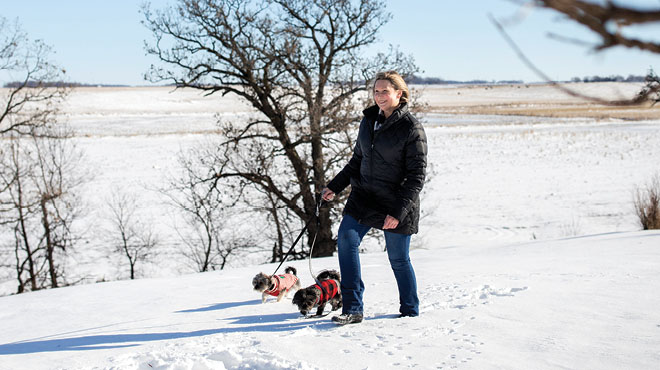 Mara Olson and her dogs, Ellie and Téa, had a good thing going. Every day, they'd walk in the fields behind her home. Then one day, Mara found herself struggling to walk up the small hill leading back to the house.
"I had pain in my left groin," she says.
It was the beginning of the end of her walking days. Over the next few years, the pain would come and go. Eventually, it became a constant companion and began limiting Mara's range of motion. Twice-weekly physical therapy appointments made things worse, she says. She tried cortisone injections.
"They didn't touch the pain," she says.
That's when Mara's primary care provider referred her to Michael Eckstrom, M.D., an orthopedic surgeon at Mayo Clinic Health System in Albert Lea and Austin, Minnesota. Imaging exams would reveal arthritis and a torn labrum — the cartilage around Mara's hip joint. Dr. Eckstrom recommended hip replacement surgery.
"I was nervous," admits Mara, who then was 50.
She now knows that she didn't need to be.
"The surgery was absolutely remarkable," says Mara, who spent one night in the hospital. "I never had pain after surgery. To be able to move and not hurt brought tears to my eyes."
Dr. Eckstrom explains that helping patients like Mara "keeps me motivated and inspired to continue my work. Helping to change a patient's pain, mobility and productivity for the positive is incredibly rewarding."
He got the chance to do that for her again just two years after her first hip replacement, when she had her right hip replaced.
"When my right hip started feeling the same as my left, I didn't wait for years to take care of it this time," she says.
Dr. Eckstrom used the side approach in both of Mara's surgeries, which tends to cause less pain and have a shorter recovery time for patients other than front or back approaches. Her recovery took about five weeks. During that time, she performed special exercises at home to strengthen her new joints. She also used a walker and then a cane for support until she was able to walk without assistance.
"I'm back to feeling good again," she says. "I could walk all day."
Mara has nothing but praise for the team that got her back on her feet.
"My husband and I were impressed by Dr. Eckstrom," she says. "We had a lot of questions, and he had a lot of answers. He's down to earth and easy to chat with. He and his whole team were so kind and so thoughtful. They are incredibly compassionate people."