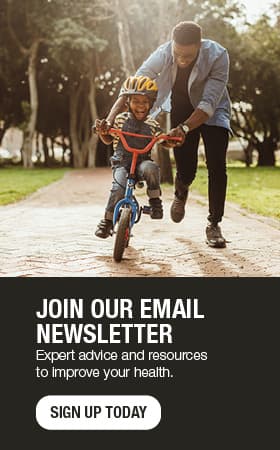 Hard work, determination help woman prepare for successful knee surgery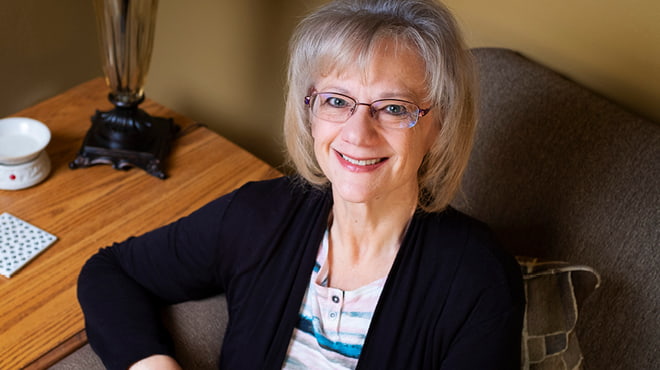 For over a decade, Ann Statz endured substantial knee pain that limited her mobility and restricted her activity. The 59-year-old Eau Claire, Wisconsin, resident avoided stairs at all costs and could hardly make it through a trip to the grocery store without stopping to sit down.
Because of the pain, she became less active and started putting on weight, exacerbating the problem.
"Every time I'd go in to talk to a doctor about it, I was too young for any knee surgery and was always told to try to lose weight, which is hard to do when you can't move," says Statz, a retired financial specialist.
READY FOR CHANGE
In summer 2017, shortly after retiring, Statz was ready to take action — or at least try. She made an appointment with Ann Hoepner, a nurse practitioner in Orthopedics at Mayo Clinic Health System in Eau Claire, with hopes of beginning her surgical journey. However, her weight still kept surgery out of reach.
"I needed to lose quite a bit," says Statz. "The standard body mass index is 40 before they would consider doing knee surgery. At my heaviest, I was up to a 48."
Statz says the news was disappointing, even though she had joined a weight loss program with her husband months before and already had lost about 50 pounds. But she was determined. Although it took almost a year, Statz went on to shed the weight she needed to have knee surgery.
Statz had surgery on her right knee in March 2018 and the left knee in June. Both surgeries and subsequent rehabilitation and recovery periods went well. Statz — who has lost nearly 140 pounds — is thinner than she's been since high school and says she's feeling healthier than ever.
"Before surgery, I couldn't walk to the end of the block without getting winded and hurting. It was just horrid," she says. "Now I can do 3 miles at a time and take the stairs instead of the elevator. It's just incredible what a difference the surgeries have made."
Hoepner says the Orthopedics team typically looks for three criteria to move forward with surgical intervention:
Radiographic evidence that an arthritic process is going on with bone-on-bone changes
Being in the right mindset for surgery and believing all conservative treatments have been exhausted
Being physically ready for surgery
"That last one was the hardest discussion to have with her, but there have been research reports and evidence that if patients' bodies aren't ready, they are at higher risk for wound healing problems, infection and other complications," Hoepner says.
She says the suggestion to lose weight is always approached with sensitivity. Hoepner just knows how devastating it can be when complications arise, and she wants patients to have the best return to function possible.
"We're just trying to eliminate risk so people can get back to their lives comfortably," Hoepner says.
SETTING UP FOR SUCCESS
Jonathan Webb, M.D., an orthopedic surgeon, teams with Hoepner on cases. Dr. Webb agrees that, particularly with an elective surgery, the goal is to take as few chances as possible to give the patient the best surgical outcome.
"Modifiable risk factors are the things that we're constantly looking to improve upon," says Dr. Webb. "Technically, in a lot of ways, weight is a modifiable risk factor. It's not an easy thing to do. It took time, support and effort, but I do feel that it ultimately helped Ann heal better and recover more smoothly."
Dr. Webb marvels at Statz's determination and commends her for losing the weight on her own — without resorting to bariatric surgery.
"She wholeheartedly believed in the importance of weight loss — not just for her knees and the ability to go through a surgery — but to become a healthier person," says Dr. Webb. "She embraced that and took it to a whole new level."
Statz says weight has always been an issue for her.
"Since grade school, I've struggled with my weight, and it has been up and down over the years," she says." But she is confident she has it under control now. In April, her husband gave her a fitness tracker. "That has really been a motivator for me to keep going and moving and being active."
Statz averages between 11,000 and 12,000 steps a day.
ENJOYING BENEFITS OF BETTER HEALTH
Statz now has improved her health so much that she no longer needs any medications. She recently discontinued taking high blood pressure medication. Even some of her allergy-related asthma issues have improved, she says.
"This is the healthiest I've been in many years," Statz says, praising Dr. Webb and Hoepner for the pivotal roles they played in her care.
"I'm amazed at what a difference this has made in my life, and I'm grateful for how Dr. Webb and Ann Hoepner have made this possible for me," she says.
---
For the safety of our patients, staff and visitors, Mayo Clinic has strict masking policies in place. Anyone shown without a mask was either recorded prior to COVID-19 or recorded in a non-patient care area where social distancing and other safety protocols were followed.
Topics in this Post