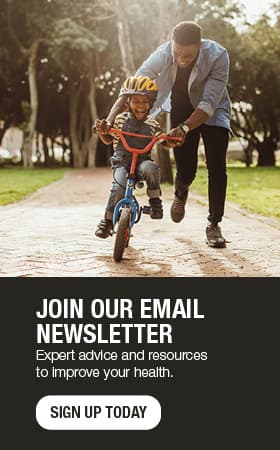 Giving thanks for special care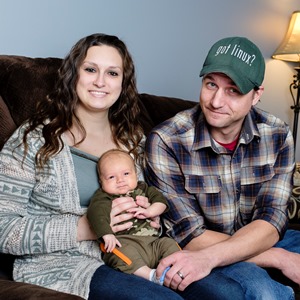 "I didn't think I would ever be able to have a baby," says Jess Pederson, 32, of Eau Claire, Wisconsin. "There was a point when it just seemed like this wasn't going to happen."
Jess looks back thankfully now that her baby boy, Chet, is home, eating ravenously and filling out with the chubby cheeks of babyhood. Her journey to motherhood was a long one, marked with struggle and heartache along the way.
LONG JOURNEY
Jess and her husband, Alex, started trying for a baby in 2013. After two miscarriages, doctors found precancerous cells on Jess's cervix, which required surgery. This further delayed the couple's family plans. Then, Jess had difficulty getting pregnant again.
"After a year and a half, I decided it was time to get help," says Jess, who works as a registered nurse at Mayo Clinic Health System. She underwent intrauterine insemination, then in vitro fertilization. In February 2017, she learned she was pregnant; but her journey was not over.
"The whole pregnancy, I just felt like a ticking time bomb," Jess says. "The baby could come at any time." There were complications along the way. At 17 weeks, an ultrasound showed Jess's cervix was shorter than it should have been. She was having pain, and her cervix continued to shorten. The signs were pointing toward early labor.
"My goal initially was to make it to 28 weeks," Jess says. "Every week after that, we were happy just to keep him in as long as possible."
At 33 weeks, Jess was admitted to Mayo Clinic Health System in Eau Claire for possible preterm labor. Pederson's obstetrician, Suzette Peltier, M.D., administered steroids to help the baby's lungs develop. Jess's contractions stopped, and she went home for another week and a half. Baby Chet was born at 34 weeks and five days, weighing 5 pounds, 14 ounces and measuring 18.5 inches.
"It was a relief when he was born and was able to breathe on his own," Jess says of the emotional moment. After years of heartbreak, she was finally able to hold her precious baby to her chest.
SPECIAL CARE
The Pedersons did not have to travel out of town for Chet to receive the level of care he needed to thrive. He remained in the Special Care Nursery at Mayo Clinic Health System in Eau Claire for two weeks, where his heart and the blood oxygen saturation were monitored around the clock. He also was on a feeding tube for the first week and a half to help him gain weight. Jess says the nurses helped the family through this anxious time.
"The staff was very helpful and understanding of the difficulty of the situation," says Jess. "I'm very thankful for the wonderful care he received." Besides watching over Chet around the clock, the nurses also helped with bathing, diaper changes and letting Jess know when he was ready to be fed.
Jess and Alex were able to stay in a room at the hospital throughout Chet's stay, which allowed Jess to be there for night feedings and to give Chet the skin-to-skin contact that helped him adapt to life outside the womb.
"We were able to see him as much as we wanted, but we didn't disturb him when he was sleeping, so he could get the rest he needed."
Now at home, Jess says Chet is doing well, and she does not take her tiny gift for granted.
"All the injections, tears and heartache were worth it to be holding this tiny human being and to be able to call him my son," Jess says. "Words really cannot describe the feeling. He is a blessing, and we will cherish every moment with him."
Learn more about the risk factors and signs of premature labor.
Read more stories about babies delivered by Mayo Clinic Health System: